---
We run through four of the best pairs of DJ Headphones on the market right now.


We all know headphones are an essential bit of kit for any DJ or music fan but there are so many different types available so which pair should you invest in?

In this article we will run through four solid options for DJ headphones worth considering.


Sennheiser Over Ear HD 25 PLUS Pro DJ Headphones
Arguably the most popular headphones amongst DJ's in the world, the HD 25s are a top choice for any DJ. Comfortable, lightweight and incredible sound quality. You can't go wrong with a pair of 25s. They come in a variety of styles and there is a slightly cheaper 'Basic version' available too that still performs very well.

We have been using HD25s for years now and highly recommend them to any DJ or fan. It's also worth pointing out that they feature a rotatable capsule for single-ear use (perfect for getting that mix just right).

More Info / Buy

---
AIAIAI TMA-2 Headphones – DJ Preset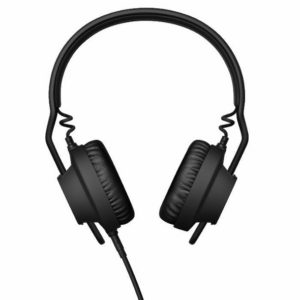 AIAIAI have quickly established themselves as one of the leading manufactures of DJ headphones. Their clever, Modular design means they can be adapted to your needs and parts can be easily replaced if broken. The AIAIAI TMAs also boast an Angled stereo plug making it harder to accidentally pull the plug from the mixer and an internal vent allowing the middle bass to be more clear and punchy.

The TMA-2s also look great and are easy to adjust, making them some of the most comfortable headphones we have tried.

More Info / Buy

---
Pioneer – HDJC70
Pioneer make industry standard club equipment (CDJ's, mixers etc) so it is no surprise that they also make some pretty great headphones made specifically for DJ's. The HDJc70s have pretty amazing sound and a comfortable headband. The ear cups swivel for mixing and everything has been designed with DJ's in mind.

One slight concern we have with these is there seem to be several Amazon reviews pointing to issues with durability. If you have had an issue with these headphones let us know on Twitter @Soundplate.

More Info / Buy

---
V-Moda Crossfade M-100
The V-Moda Crossfade heaphones have award-winning sound and they might be the loudest headphones we have tried out! These are a little more heavy-duty than some of the other options we have listed but they feel great and are made to be very comfortable.


More Info / Buy

---