Joshu Doherty from UK acid house, techno & electronica duo Posthuman recently shared a super insightful Twitter thread about how he manages to navigate booking gigs and touring without an agent. We reached out to him and asked his permission to turn it into a blog post as we thought it would hold a lot of value for many of you.
So without further ado, here goes!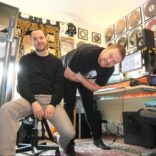 "
I get a lot of private messages from other DJs – some established, some not – asking about how I get gig bookings without having a booking agent.
It requires hustle & graft, but there's a few simple tips I can give:
1 – Get a list together of DJ similar to yourself in profile and style.
Look for DJs who play your music out regularly – check where they are residents or regulars.
Check through their RA, FB, insta pages etc. and find all the places they have played over the last few years.
2 – Engage with those artists, clubnights, and labels.
Like, comment, & share their posts, check their tunes, mixes, radio shows – play them out and chart them. Get involved, give out some support. Spread the word.
3 – Keep an eye on those club nights and venues.
If it looks like they're doing steady bookings (instead of one-offs) & drop them a message. Be honest & frank:
"I saw you booked XXXXXX, how did it go? I'd love to play for you sometime if you're looking for future bookings" 
4 – Be realistic on fees. It's you chasing them, so you have a little less clout.
Small venues and new promoters are often struggling. But don't sell yourself short either. It's a fine balance knowing your worth but also not putting people off.
5 – Make an invoice template.
Get your IBAN / BIC, paypal, etc. on there.
Without an agent you may end up chasing money a fair bit, so always ensure you get a deposit that at least covers your costs.
Never pay to play unless you 10000% trust & know the promoter personally!
6 – Travel costs: are generally main train station / airport to destination & local travel at the venue end – it's not usually assumed to cover your local travel to train station or airport.
Some promoters take you out for a meal, if not ask for a cash buyout. Don't be greedy.
7 – Travel Costs (continued): If you don't have an agent it can be handy to offer a "landed" fee, where the cost is all-in and you cover your own travel & accommodation.
NEVER book until they have at least paid the travel costs in advance.
8 – Itineraries: Without an agent, it can be messy getting itineraries, and you'll likely have to self-manage.
Make sure you have a charged phone, local taxi apps / details, and research your destinations in case you get left hanging.
9 – Get MOBILE PHONE NUMBERS of promoter & their crew. 
10 – Be careful of "we have a room at someone's house" instead of hotels. Ask for a photo.
I still get caught out with this stuff! Stayed in a room full of mould a little while back… grim.
With hotels, ask for late checkouts! It's worth paying extra.
11 – Promotion: Once you do get a booking, don't just sit back and expect them to do all the work. Make an effort to help promote the party – be that sharing on social media, doing mixes etc.
Sometimes promoters will ask for advertiser access to your social media. This can help.
12 – Local Promo: Check the town/city you are playing in. If there's some local radio shows, offer to come on as a guest. Tap up any local newspapers, magazines, or blogs.
Engage on social media with other people in that town/city. GET INVOLVED. 
13 – IMPORTANT!: Most importantly, when you do the gig: don't be a cunt. Even if the place is empty, or the sound is wack, or the crowd sucks. Play your best and be a professional. Don't judge.
(I'm guilty of fucking this one up in the past)
14 – Don't be scared of asking, but don't always expect a reply. You might get ignored, you might get a negative response.
I couldn't tell you how many "Ummm…who are you?" replies I've had ??
15 – Contacts: You might have to do some serious digging to get contact details. Rabbitholes of Facebook page to RA page to Instagram to Twitter before stumbling upon an email address.
There are rewards at the end of internet sleuthing, but you'll have to put the hours in.
Anyway, I hope that this is helpful for someone out there!
Bonus – travel tips:
USB power block, universal power adapter, backup USB sticks, rehydration tablets, earplugs, wet wipes, painkillers, antihistamines = should never leave your DJ bag.
Also: especially if you travel often by budget airline, Backpacks > Roller cases.
They'll never ask you to put it in the hold on a busy flight, so you won't have to piss about standing in the gate queue to get on the plane first. Get one that fits wax
(this tip via Luke Vibert)
On fees. Here's a good rule of thumb:
200 capacity venue, £10 entry. Safe target is half full = £1000 income.Promoter has to hire venue & pay for promotion, so they probably have £600 left for DJ fees AND COSTS. The headliner would expect £400 all in.
This obviously varies massively and can depend on many factors; but I've seen DJ's ask for upwards of 2 grand to play a 150 cap venue that's £8 entry.
Be realistic, check the promoters previous parties – door entry, how busy it was, etc. to get an idea of what to ask for.
Addendum: agree a set fee, never "if we do well, we will pay you more". Ask for your full fee regardless of how the party went.
And if they do well on the night, don't ask for more.
That's the promoter's risk/reward gamble. You're just working for a set rate. Be professional.
"
There is a lot to unpack in all of that, but spend some time on it and take it in – @Posthuman have shared a lot of helpful information here, if you want to find out more about them check out the links below (they make awesome music).
---