Create Music Smart Links for your music free at click.soundplate.com.
If you follow musicians on social media the chances are you have clicked a music smart link before, check out the image (right) if you have no idea what I'm talking about!
Making a music smart link takes just a few minutes and can make a huge difference to your music marketing, here's just three (of many) reasons why:
1. Don't alienate your audenice, give them the option to listen anywhere they like!
Soundplate Clicks Smart Links support all music platforms so you can give your fans the choice of where they listen to your music. Smart Links will also ensure your users see the platforms in their own local territories.
It can sometimes be tempting to focus your marketing on the streaming platform or download store where you already have the biggest fanbase but you do not want to alienate fans that choose to listen elsewhere. Use a smart link, keep all of your fans happy!
You can also embed your smart link directly on your website or even generate a QR code for offline marketing (think event flyers, stickers and merch tags).
2. Understand your fans and analyze your marketing efforts.
Every click and action taken on a Soundplate Clicks smart link is recorded so you can analyse and understand your fans like never before. Learn which platforms they prefer, which of your songs is most popular, what locations your fans are in and so much more.
Knowledge is power, understanding your audenice will help your future marketing and targeting more than anything else.
You will also be able to keep track of where the traffic is coming to your smart link from, this makes it easy to understand which parts of your marketing campaign are working most effectively.
For example you will be able to see if more users are finding your music on Facebook, Instagram or Twitter.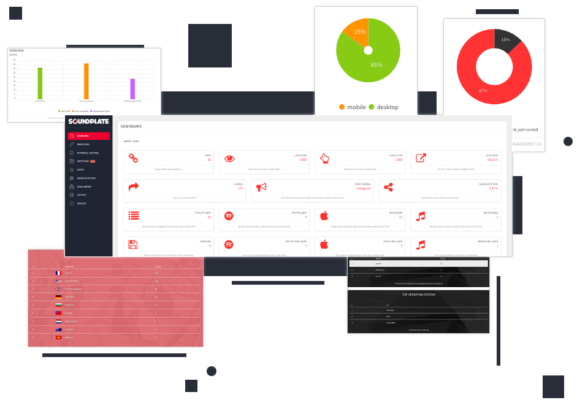 3. Re-targeting and fan-base building.
Re-targeting is a very powerful tool for music marketing. You can use a Facebook Pixel to track each visitor to your smart link and then run ads targeted to that audience when you next release music.
This gives you a big head start when promoting your music as you know this audience is interested in your music as they have engaged with your music before.
You could even target just the segment of your audenice from a particular location for a live show or the audience who prefer a particular music platform for a special promotion.
Soundplate Clicks smart links also give you the option to set up special buttons which allow your fans to add your music to their Spotify, Apple Music or Deezer playlists in just a single click, directly from your smart link. This is a great way to generate playlist adds and new followers. 
Create your smart links now..
This article has highlighted just three of the many, many reasons to start using smart links for your music. If you are ready to try it out for yourself click here to register for a free Soundplate Clicks account. 
To learn more about using smart links for music marketing check out our guide by clicking here.
---