Soundplate Records releases new music almost every week across multiple different genres.
In this post, we are going to share just 5 of the many ways we promote music on the label.
Every release is different and has its own marketing challenges, there is no-size-fits-all for music marketing but hopefully, this will inspire some ideas for your own music marketing.
Creative Assets
One of the first jobs on any marketing timeline is to get the creative right.
This can include but isn't limited to the release artwork, social media teaser content, music visualizer videos, lyric/music videos and content needed for advertising on release day and beyond.
When coming up with the artwork for our label releases we always work closely with the artist to ensure the art direction fits the artist's vision for the song.
For some releases we will create full music videos, others might just be a simple music visualizer and some social content or a lyric video.
Suggested Tools:
Fiverr – Great for finding creative freelancers.
Music Visualizers – Affordable simple videos for your music
Cover.Soundplate.com – a free, simple tool for creating artwork or social media content.
PhotoPea – a free, fully-featured image editor in your web browser.
---
Pre-saves and Smart Links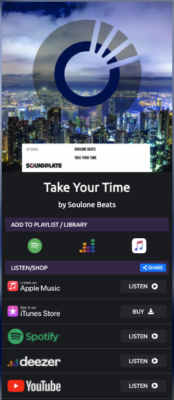 Music Smart Links play a vital role in all of our marketing.
Smart links allow you to quickly and easily create professional landing pages to promote your music. These landing pages give your fans the choice of how and where they listen to your music.
Creating music smart links and pre-save campaigns for your music is simple and free with Soundplate Clicks. We create a pre-save campaign for each of our releases on the label.
In general, we like to put most of our marketing effort in after the music is released but pre-saves are good for when you want to shout about a release in the lead-up to the big day.
Once the song is out we use the smart link whenever and wherever we share our music online. There are many benefits to doing this including the ability to track our marketing efforts and to see which campaigns are working well (or not), the option to retarget people who have shown interest in the music, and of course it allows us to give fans the choice of which platform they listen on.
Using Soundplate Clicks also means that when we add a new smart link to our account, our label page is automatically updated and the new music is available for fans of the label to find here.
Soundplate Clicks is used by everyone from Jennifer Lopez to Masters at Work so you will be in good company if you decide to join us!
Suggested Tool:
Soundplate Clicks – Music Smart links, pre-saves and artist pages.
---
DJ / Radio Promo
For some of our releases (mainly our dance and pop songs), we will use external radio pluggers to help us get the attention of key tastemakers and radio DJ's. This isn't something we do for every release but if we feel it will help move the needle on the record we are happy to invest in radio promotions.
We are currently working on a new release for UK based artist, LEGATO, and have been working with a promotions company called Your Army for the DJ promotion. It's been getting some awesome feedback so far so hopefully that will help the release take off when it is released!
Suggested Tool:
Music Fibre: Radio Pluggers Directory
---
Playlists!
2-4 weeks before the song is released, we pitch it to Spotify's editorial team using Spotify for Artists.
We also pitch directly to Apple Music, Deezer, Amazon and other DSPs, this is something we do internally with our own contacts or with the help of our distributors.
After the song is released we use SubmitHub and the Soundplate submission tool to pitch to more curators. We try to only pitch to relevant curators that we think will love the music. Getting on relevant playlists is super important. But getting on random playlists that don't suit the song may throw the algorithms off and ruin your chances of being surfaced on Discover Weekly and other algorithmic playlists so we are very selective about who we send music to.
There are hundreds of playlists you can submit your music to for free on Soundplate. We also add some of our releases to our own playlists on Spotify & Deezer and email the music to some of our friends that run great lists.
Suggested tool:
---
Social Media & Email Marketing
Once again, the way we plan and execute marketing on social media and via our email databases depends on the artist and the release. Great targeting is the key to effective digital marketing.
Some artists we work with have large engaged fan bases on social media so we will work with them to create the perfect content to engage their fans, always driving back to the smart link for the release. Others need a different approach, perhaps some content to warm up an audience than a re-targeting campaign to help convert them into listeners.
Understanding the audience for a specific artist campaign is really important, the more data you have on their current fans, the easier you will find it to reach new listeners. We use Soundplate Clicks, Spotify for Artists, and the native tools within Facebook ads manager and Instagram to analyze fans and plan social media and email campaigns.
Interested in learning more, check out this interesting article about using music hashtags in 2021.
---
These are just 5 of the many ways we promote our music on Soundplate Records – if you find this post useful or have any questions about it feel free to contact us using the form below or tweet us @soundplate:
---
---