---
Every DJ knows that the amount of equipment that they have can be hard to keep track of. It's not just the little things such as memory cards and DJ USB sticks. Obvious things such as DJ headphones can be forgotten too. That's why smart DJs make sure to take a headphone case, but which one do you buy?
Check out this list of 7 of the best Headphone Cases for DJs to help choose which one would be best for you!
UDG is one of the most well-known brands for their headphone cases, and other accessories. Its 
EVA foam ensures that any items that are placed within the headphone case are well protected from any damage, alongside 
its heavy-duty handle to ensure it can be gripped well. A great option if you've got a lot to carry.
More Info / Buy
With a padded compartment, lined with velvet, the Gator G-Club makes sure that all objects inside rest comfortably are completely protected and do not get marked in transit. Its handy size ensures that it can hold multiple different objects within its compartment. One of the compartments is for the headphones, and another works well for phones, cards cables and more, allowing easy transportation of small but essential items.
More Info / Buy
The hard, shockproof EVA exterior of the Décor Gear case ensures that equipment will always be safe, even with accidental dropping. It is also equipped with water resistant features to make sure any rain will not get inside to damage what could be an expensive set of headphones inside. The equipment is also protected on the inside with its anti-static fabric lining, which can help protect sensitive components from electrical build up.
More Info / Buy
Once again, this case is designed with great protection in mind with its hard-outer shell but includes a soft interior layer for protection from the inside. It protects sensitive equipment from dust, shock, moisture and more. Not only is it lightweight, it is also compact so it can fit into bags making it easier to carry – a feature that a lot of DJs will need when they travel around.
More Info / Buy
Created from premium, hard EVA this BOVKE case provides great protection to all items inside. Along with keeping out moisture, this shockproof case is guaranteed to prevent any damage to the items inside, meaning those long and bumpy trips should prove no problem to DJs. Fabric lining on the inside absorbs impact and the case is also anti-static, ensuring that equipment inside stays safe.
More Info / Buy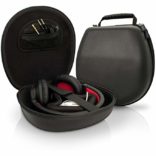 One of the interesting features that could set this case apart, is the detachable pocket for USBs, cables and more inside the case. This smaller inner case can be kept in or taken out, depending on the user's preference. Soft lining is used on the inside to ensure that damage, scratches and scrapes do not appear on the equipment.
This is a more of a situational case, but still deserves to be on the list. While it can only store foldable headphones, it still does its job well and holds up to a fair bit of movement. It boasts great protection, is splash proof, shock proof and ensures the equipment sits comfortably. It works well to prevent damage to the equipment. Another great deal on this case is the 45-day money back guarantee, and 24-month warranty, allowing you to decide if it's the right option for you without risking buying something that doesn't ultimately suit.
More Info / Buy
With our hotlist of cases for DJ headphones complete, you can clearly see that there's a case to suit every DJ – no matter what their preference.
Looking to upgrade your home studio? Check out our guide for the best home studio monitors, here.
---