---
Purchasing the best midi keyboard is definitely a must when putting together your home studio. When getting started, you'll find there are many different types to consider along with their unique features and abilities. To help you out, we've put together a list of the 7 best midi keyboards available in 2021.
Here are 7 MIDI keyboards worthy of any home studio: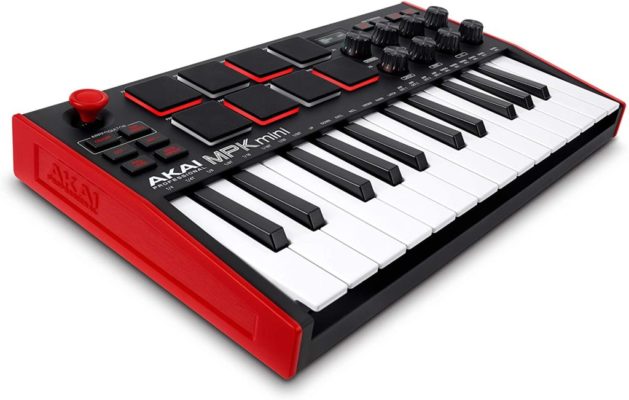 The AKAI Professional MPK Mini MK3 provides users with an essential music production experience at an affordable price.
It is an overall great 25-key plug-and-play choice, which includes a USB port and universal compatibility on music production apps (DAWs). Anyone traveling or commuting will often enjoy its compact size along with its wide range of tools available for a high-quality production experience. The setup is simplified for a stress-free experience and includes a single-install process.
Additional features include:
8 backlit MPC-Style MIDI beat pads
4-way thumbstick modulation control
1500+ Sounds and complete production Starter Kit including 2GB of sound content
8 knobs and music production software included
MORE INFO / BUY
---
This micro-sized keyboard controller is packed with musical potential at the fingertips of any creative user. It features many high-functioning professional production conveniences. The unique Komplete Kontrol software simplifies the browsing process of over a million instruments and effects as you scroll in one location.
Additional features include:
Over 6100 sounds
10 GB of content
2 months free of millions of samples and loops
MORE INFO / BUY
---

This simple yet effective design is highly suitable for new midi keyboard users.
A simple USB cable connection will work effectively on both Mac (OS X) and Windows (XP and up) versions.
Functions include:
Pitch
Modulation
Octave
Transpose
Sustain pedal
MORE INFO / BUY
---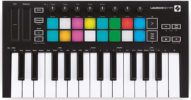 This compact musical wizard offers users endless possibilities of music creation through Ableton Live. It stands out as an overall versatile option with easy-to-use functionality. Fixed-chord mode is a customizable feature that follows your keyboard movements. The creative arpeggiator is highly maneuverable throughout any transitions of rhythm, beat, pattern, octave, etc.
Additional features include:
 Midi out – apps/programs to hardware synths
 16 velocity-sensitive RGB pads
 8 rotary controls, pitch, and Mod touch strips/sustain input
 3 year-warranty
MORE INFO / BUY
---
Many beginners enjoy this straightforward and easy-to-navigate keyboard option. It has everything you need to begin confidently creating music. Driver installation is not required, only a USB 2.0 cable for easy plug and play capability.
Additional features include:
4 programmable memory banks
6 control buttons: Edit, Mod, Pitch down / Pitch up, Octave down / Octave up
1 rotary knob for tone adjustment
MORE INFO / BUY
---
Both beginners and advanced may benefit greatly from the musical engineering possibilities available from this midi keyboard. Mac or PC users can make music anywhere with its compact size and high-functioning software. It features limitless computer-based music sequencing expressions.
Customizable response keys include:
Traditional piano
Synthesizer
Key-based beat making
Pitch blend/modulations
MORE INFO / BUY
---
This unique option is perfect for users who wish to advance their home studio music production capabilities. It features many powerful tools that allow users full-creative license tweaking and adjusting music to perfection.
It is easy to lose track of time when discovering all its possibilities with 49 full-size velocity-sensitive keys and over 2,000 studio-level sounds to work with.
Software includes:
Pro Tools – Alesis Edition
Eleven Lite
Ableton Live 9 Lite
Mini Grand
DB-33
MORE INFO / BUY
---
Picking out the best midi keyboard for your home studio takes considering your present needs and which features meet your goals. Hopefully one of the options above is perfect for you.
Still hungry for more music gear, check out some more buying guides below:
---