---
This weeks Interview & Mix comes from Danny Briottet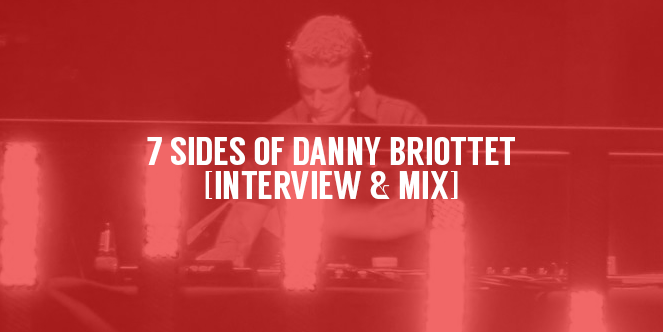 Selector AfterDark – Danny Briottet by The Selector on Mixcloud
Introduce yourself and tell us about the part of the UK you're from?
This is Danny Briottet, I am a musician, DJ and producer from West London. Founder member of Renegade Soundwave, UK electronic music pioneers at the forefront of the original dance / electronica explosion of the late 80s/ 90s with seminal tracks such as 'The Phantom', 'Women Respond To Bass' and 'Probably A Robbery'. RSW name-checked as a primary influence on artists such as The Prodigy and the Chemical Brothers, whist the 1988 release 'Ozone Breakdown' is often cited as the first Jungle tune. Production and remix credits include Depeche Mode, Cypress Hill, Grace Jones, Aswad, Radiohead, Moby and Orbital, together with a wealth of World Music artists such as Esma Redzepova (Macedonian Queen of Gypsies), Amina Anabi (Tunisia) and Cheick Tidiane (Mali).
Can you tell us a bit about what you've been working on recently?
I've been working on the Rhythm Riders project, which is a collaboration between myself, Tony Gad and Drummie Zeb from reggae legends Aswad and Tim Bran 
who recently produced London Grammar. There are various featured vocalists such as Sweetie Irie and Brother Culture. This is cutting-edge electronic music heavily influenced by reggae. It is an international project with remixes from the US, Canada, Hungary and the UK. I've also recently done remixes for Orbital and Grace Jones and am working on a collaboration between Jamaican artists and a Balkan Gypsy brass orchestra.
And can you talk us through the mix?
The mix is a journey though dub-influenced electronic bass music, taking in breaks, dub step, deep house, electronica and dub itself. I'm not a DJ who likes to play one type of music all night – I like to mix it up and go up & down, hard & soft, try and keep it interesting. The mix starts with an excerpt from the film Get Carter – an early 70s classic starring Michael Caine. It then goes into 'Faults'. a kind of orchestral dubstep track from my 3DB project that I do with Dan Donovan (Big Audio Dynamite) and Groucho (Island Records Grammy Award winning producer).
The mix stays on a slow tip going into a track from the new Leftfield album and then the tempo doubles up going into tracks from Rebel Sketchy, Sweetie Irie, My Selecta and trippy breaks from Subscape and heavy drums from Vinyl Junkie, all hot new British music.
We then slow it down again with some Indian and Balkan pieces mixed with heavy dub-electro and then up the tempo again with PMT's 'Gyromancer' which is a classic of the breakbeat genre. 
Then you get some European flavours with the French female vocals on 'Remember' – a track from my Red Star project and 'Nightwalker' from the Danish electronic genius Trentemoller, going into some dub-heavy deep house from San Francisco's Solomonic Sound.
After this there's some more of my stuff with 'Come With The Love' from Rhythm Riders, some DubBreaks from Red Star and 'The Phantom' by Renegade Soundwave which is one of the 2 older classic tracks I put in the mix. 'The Phantom' was a track that was highly influential on the British scene and often name checked by people such as The Prodigy, Chemical Brothers and Grooverider as one of their top tunes.
We then go into one of my favourites by Acton Dread – a kind of modern 'steppers' tune with sensual electro-clash vibes, into more British stuff with some orchestral beats & bass from Subscape, Caspa and 'Baader' from my 3DB project.
We go back down again with a wicked dubstep mix from Rhythm Riders, some snatches of 70s reggae samples and then back up to 140bpm dub-breaks courtesy of King Yoof, Krafty Kutz and ending with the latest single from Rhythm Riders – ' Give Me A Sign' 
Nice, talk us through the British music featured in this mix? Which British artists are you most excited about?
British artists featured in the mix that I'm most excited about right now are Subscape – a really talented young guy whose production and ideas are excellent. My favourite track of his is "Everything' which I don't think is out yet, but check him out. Also King Yoof who is a label-mate of mine at Sub Slayers Records (who release my Rhythm Riders stuff) – his reggae influenced bass & breaks are second to none. There's always loads of interesting stuff coming out of the UK, sometimes by artists that make one or two singles and then disappear, and shows like The Selector are important as they give global access these artists. Other artists have been around for a long time and consistently release good work – the new Leftfield album is represented in the mix and again, very high production values.
Cool, tell us about some of your British musical Heroes and influences in general?
Influences in general – 70 / 80s reggae which had a huge impact on me and in terms of production values and vibes, has influenced pretty much all electronic / dance music in some way.
Early electronic music such as Kraftwerk, hip hop pioneers such as Grandmaster Flash, Public Enemy, Eric B & Rakim, Mantronix.
The funk of James Brown, film soundtrack composers like Ennio Morricone and John Barry.
British musical heroes – David Bowie, The Clash, Rolling Stones, BBC Radiophonic Workshop (Doctor Who Theme etc – they used to record in a disused quarry!), the reggae sound-systems like Jah Shakka, Observer, Saxon etc.
Also the amazing amount of groundbreaking electronic music produced in the UK over the past 30 years.
Great and what's on the cards in the immediate future?
I've been asked to contribute music to a new feature film on the subject of human trafficking directed by Bruno Coppola. I will also be DJing at festivals and a couple of London DJ dates in August. I will also be working on new material for my various projects.
And finally, where is the best place in the world you have performed and why?
I like to play wherever the people are cool and the vibes are good. I always like to go to new places where you don't know what to expect and some of the more obscure spots are often the best. So I couldn't really say one place but some stand out such as the Myan Temple, Miami; Danceteria, New York; Notting Hill Carnival, London; Port, St Petersburg; Transmusicales, France; Sigat Festival, Hungary; The Park, Skopje, Macedonia; Gozo's Whitehouse and Togo.