This week's interview & mix comes from Otik.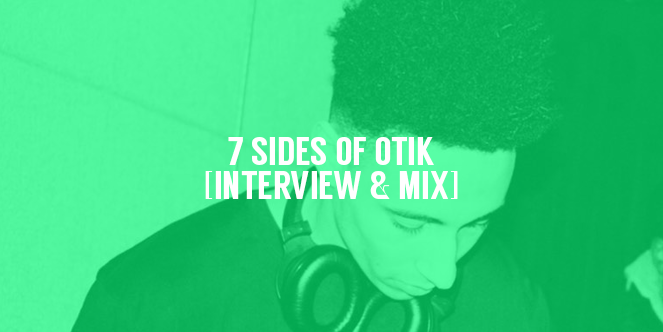 Introduce yourself and tell us about the part of the UK you're from?
Easy, I'm Otik and I'm from Bristol, currently residing in East London.
Can you tell us a bit about what you've been working on recently?
Recently I've been finishing up a few tracks to follow my last release 'Ember/Central Nerve' out now on Push and Run and I've recently worked on audio-visual project with director Sonni Rossi, in which I crafted the entire soundtrack. You should also see an all production mix from myself for a leading music magazine at some point soon too.
And can you talk us through the mix?
I wanted to record a mix that represented the sounds that drive me currently, and I also wanted to display my ability to blend songs with different energies, as I feel it's a bit of a lost art and I don't hear it as often as I'd like to.
Nice, talk us through the British music featured in this mix? Which British artists are you most excited about?
I guess Burial almost goes without saying, I'm always hanging on the edge of my seat to hear new music from him and he's pretty much my main inspiration in music. There's also Djrum who I feel sits in a similar lane as him but I like how much more dance floor focused his work is. Nico Lindsay I'm very excited about, he's working with lots of different artists including myself and I feel his style of writing is unique and a cut above a lot of the grime artists I'm hearing these days.
Cool, tell us about some of your British DJ heroes?
A few of my British DJ heroes include DJ EZ, Joy Orbison, Sully and my all-time favourite musician is Burial but I guess we can't technically class him as a DJ. All three strike a certain chord within me, EZ and Joy O for their variant selection, and I'd say EZ is someone I look up to as a DJ, as I guess that's the standard to beat. I'd kill to be on his level one day.
Great and what's on the cards in the immediate future?
The soundtrack from my audio-visual project I mentioned earlier should be seeing the light of day very soon and I have been planning some releases with some very interesting labels that I can't really discuss yet, but this summer expect some big things.
And finally, where is the best place in the world you have performed and why?
Well I've only ever played in the UK and Holland so I would say due to the sheer difference in the crowd, PopupKlup was my favourite gig so far. Rhythm Factory, which is closed down now is also a strong contender, the energy there was always at a high.