We've pulled together a list of the eight best studio headphones available for music production to suit all budgets. Read on to find out which one is right for you.
If you've put your heart and soul into creating your next piece of music, you want to make sure that it is finished to the best standard possible. Studio headphones play a significant part in enabling this to happen.
Studio headphones are worn in the music production space to give the artist the cleanest sound possible, i.e. the headphones work hard to make sure that that the microphone only picks up the audio and no other residual sounds. The headphones are made with flat frequency response, meaning you will be able to hear exactly what was it recorded (whether you like the result or not!). As well as being able to replicate the sound going through them accurately, a good pair of studio headphones will also provide a good level of resistance to any sound that might want to leak out of the headphones and into the microphone. Having the right studio monitors and headphones can massively impact on the end product.
Tailored specifically for music production and recording, this set sits comfortably on the ears due to its closed over-ear design and velour ear pads which can be replaced as and when needed. Quality workmanship ensures the wearer will get good use out of this set. High frequencies or ultra-low bass sounds, the PRO-80 can handle the spectrum with precision.
MORE INFO / BUY
---
Sound is protected in this model via dual airflow chambers and a dampening structure, leaving the music producer/artist with a clean, sharp, neutral sound. The headset is fully adjustable, and the earpads are made from a hybrid memory foam; long sessions in the studio will certainly be more enjoyable.
MORE INFO / BUY
---
Critically acclaimed by industry experts, not only is this a stylish set of headphones but it delivers on sound isolation to the highest standard.
MORE INFO / BUY
---
With a handy carry case, the Focal Listen is good for journeys, giving you the freedom to produce music wherever you need to. The cone technology ensures a sound that is dynamic and real, giving the artist total control over their sound spectrum.
MORE INFO / BUY
---
Pricier than the others on our list, the Neumann set promises linear sound balance, with maximum isolation in even the noisiest of environments.
MORE INFO / BUY
---
Don't be fooled by the price of these budget friendly DJ headphones; they still offer reasonable service in the search for crystal clear sound. Robust and efficient, the Behringer's ultra-wide frequency and cobalt capsule will stand you in good stead.
MORE INFO / BUY
---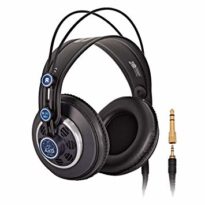 Unlike the other models listed here, this set does not feature total closure and instead has semi-open earphones. It does, however, boast a varimotion 30mm XXL transducer to provide you with extended range.
MORE INFO / BUY
---
For the price this headset is currently retailing at, the specification is impressive. The design is simple and minimalistic with comfort prioritised thanks to high-quality leather ear pads. They're also lightweight so that you can work for longer. The sound is sharp and precise.
Sennheiser are widely respected for having the best DJ headphones around, so you know the sound will be great!
MORE INFO / BUY
---

If you are also shopping for the best studio monitors click here to check out our guide!

---