Following the monster smash of 'Underwater' Anabel Englund and MK are dropping a remix package. We managed to catch up with Anabel to talk about Madonna, the piano and never giving up. 
---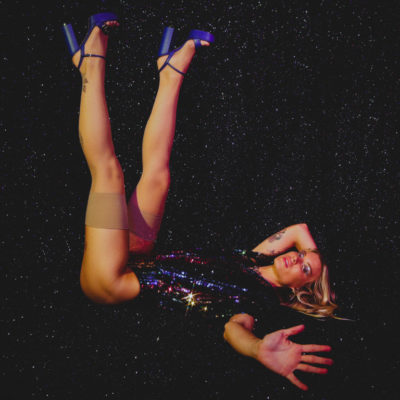 Introduce yourself and tell us where your from..
Hey everyone xx I'm Anabel Englund. Born in New York City & raised in LA. 
Name one person who has had a big impact on your music career and tell us how they have helped you?
Madonna had the biggest impact for me because she's put out music throughout my entire lifetime & even before. I grew up with her lyrics as a bible for me in a certain way. She's the only person I would get starstruck by just because she is such a force & has gone out of her way to help so many people. I used to go out with my friends dancing in San Francisco & we would come home & play a Madonna tour, Confessions or Drowned World, Sticky & Sweet. We would sing & dance along with her & lose our voices talking about how grateful we are to live in the time of her. 
What's on your rider?
Coconut water, yellow red bull, sour candy, local fruit, tea & honey, popcorn, socks, a notepad & pens…
What is your favourite piece of music equipment and why?
I love the piano, I love how it doesn't hurt like when you play the guitar. I just get lost inside of it & can play for hours when I get going. It's so beautiful & easy & strong.
If you could change one thing about working in the music industry what would it be?
Equality between the sexes. If I could change everything over night it would be that more women & non-binary, had more jobs as producers, promoters, agents, just everything in general. 
Do you get nervous before playing to a crowd, if so how do you cope with the nerves?
I do!! Well, sometimes…it's depending on the show but honestly its been almost a year since I've played to an actual crowd which is just crazy. Before each show I close my eyes & say a prayer, when I'm nervous I think, what would Madonna do? I just have to breathe & remember to give it my all! 
What song/project/album are you most proud of to date?
My debut album I just released December 11th called Messing With Magic, theres a lot of hard work & vision on that album & I am so happy its out! 
What are you currently working on that we should be excited about?
Well I just put out a remix package of my song Underwater with MK, its fireeeee. With remixes from Andre Salmon & Freedom B, Benson, Nightlapse, & Redfield. But there is a lot more music up & coming so I'm excited about that.
How much time do you spend making music? How long does it take for you to finish a track?
It all depends really. Some weeks are a lot busier than others. I've been doing a ton of zoom sessions & it usually takes about 4 hours max to finish a song but that's without having the vocals properly recorded. I've been emailing my voice memos as a place holder which believe it or not sound really pretty for a phone recording! Its amazing what we've been able to accomplish 
Any advice for new artists?
Yessss just never give up. If this is really what you want to do & know in your heart you are meant to do then keep going & work harder than anyone on your team. Don't rely & wait for people around you to make you what you want to be you have to do it yourself. There will be ups & downs but just don't stop.
Social Links –
Instagram – @anabelenglund
Facebook – @anabelenglund
---