---
Gryffin is back with his latest single 'Best Is Yet To Come'. It follows recent single 'I Want Love', featuring New York, alternative singer-songwriter Two Feet as well as 'Safe With Me' and 'Cry', collaborations with Bay Area singer-songwriter Audrey Mika and Swedish dance favourite John Martin respectively, the tracks that have already amassed more than 30 million combined Spotify streams. We managed to catch up with Gryffin for 5 minutes to talk about riders, music plug-ins and his creative process.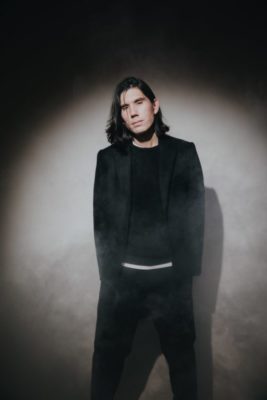 Introduce yourself and tell us where you're from..
My name is Dan Griffith, aka Gryffin, and I'm from the Bay Area in Northern California. I'm currently based in Palm Spring with my wife Steph and French Bulldog Gigi, but go back and forth between Los Angeles for work.
Name one person who has had a big impact on your music career and tell us how they have helped you
There are so many, but in the dance/electronic world, Calvin Harris is definitely a top one. His music has always been ahead of the curve, and I've always been inspired by his sound and musicality. He's definitely inspired me to use different sounds and try different styles in my music.
What's on your rider?
I love having a good mix of snacks like hummus & pita chips, a vegetable tray with dips, fresh pico de gallo, cliff bars and a lot of good drinks like coconut water, red bull, cold brew, and a few of my favorite beers like pacifico and modelo.
What is your favourite piece of music equipment and why?
I definitely need to have my Gibson Les Paul. It's my go to electric guitar, and it has amazing versatility. I love recording with it.
What is your music plugin and why?
Right now, I'm loving U-he Diva because the sounds feel so rich and full. I have been having fun with Omnisphere for a while as well because of the sheer amount of sounds and patches it has, really allows me to experiment and try new things.
If you could change one thing about working in the music industry what would it be?
Right now I would change the reliance on social media. Since everything shut down over the last year, it was really hard to try and connect with fans in a meaningful way. Everything is so quick and instant where I try to connect with fans at shows and on the road. I definitely think there are positives to social media, but I wish it was less reliant on algorithms that don't appreciate art. I'm just happy that I'm back on the road and can engage with my fans in person again.
Describe your creative process / routine.
Every record is different. Sometimes, I get in early with some great writers/another artist or producer and start an idea from scratch. Other times, I'm pitched songs from other writers that I then produce out and we bring in an artist to collaborate on the record. With my artwork and videos, we plan pretty far out and put a lot of thought into the creative process. It's important to me that my creative narrative is cohesive with my music.
Do you get nervous before playing to a crowd, if so how do you cope with the nerves?
I don't really get nervous in front of a crowd any more, but definitely feel some sort of nerves right before I go on. It's really just part of performing and I try to embrace it because the pay off makes it all worth it.
What song/project/album are you most proud of to date?
I'm most proud of my debut album, Gravity. I really didn't intend to make an album, but after creating a bunch of songs, I started to realize my vision for it. It was one of the hardest but most rewarding processes of my life.
What are you currently working on that we should be excited about?
I'm working on a bunch of new music that I'll be releasing throughout the summer that will culminate into my second album. I'm so excited to show everyone, and especially can't wait to tour with these new records.
How much time do you spend making music? How long does it take for you to finish a track?
I spend a lot of time making music. When something is your job and your passion, it consumes a lot of your time, but I love it.
Any advice for new artists?
If you love making music, you can find a way to do it if you put your mind to it. I went to college for engineering and realized music was my passion so I decided to take a chance on myself. It's not easy, but if you put in the work and find your own, unique identity, you can do it.
Social links –
Instagram – @gryffinofficial
Facebook – @gryffinofficial 
Twitter – @gryffinofficial