21 year old producer, Imanbek has already gone multi-platinum with his remix of Saint Jhn's "Roses", which in 2021 won a Grammy for Best Remixed Recording. He has released music with with artists including David Guetta, Rita Ora, Marshmello, Usher and Afro Jack, and remixed for huge pop names including Dua Lipa and Zara Larsson. We caught up with him for a quick chat..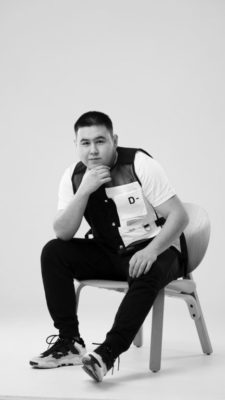 Introduce yourself and tell us where you're from..
I'm Imanbek, DJ and producer that you probably know for my Roses remix. I was born in Pavlodar region in Kazakhstan, and I live there now as well. It's not a big city or anything, but I love it.
Name one person who has had a big impact on your music career and tell us how they have helped you?
I don't know actually, I started all by myself and just wanted to create music – I watched a lot of tutorials on YouTube. My parents were like "well, ok, if you like it then do it!". But nobody had a significant impact on it, I just created music because I liked it and I was doing it on my own.
You won the Grammy award for 'Best Remixed Recording', congratulations! When you created the remix did you think it was going to be such a massive success?
Absolutely not. To be honest I considered Roses as a less important release. So I was really surprised when I went viral. I released it just because and here's the outcome.
At the time of writing this you are the 247th most listened to artist in the world on Spotify. Which is another incredible achievement! How much do rankings, stream counts & awards mean to you? 
They do mean a lot as a result but I don't think about it during the production stage. So I just do what I feel, what I want and when I see people value my efforts it makes me feel helpful. So it gives me even more motivation to push harder and create new music.
Describe your creative process / routine.
Basically I just launch my DAW, take my midi keyboard and headphones and try to play something. Sometimes it goes well, sometimes not. But if I feel like "Yeah, I like how that sounds" I elaborate on it. Usually in several days it turns into a complete demo version if I stay motivated and keep working with it.
What song/project/album are you most proud of to date?
Probably Roses, because it's how it all started. And I created it myself, with no help of professional sound engineers etc. It shows me that if you want something to happen, you've got the means.
Finally, after such an incredibly successful last few years, what does 2022 hold for Imanbek? 
I'm looking forward to worldwide touring finally! It was problematic due to the Covid restrictions back then you know. I also have lots of new collaborations coming, some of them are really different and experimental for me.
So stay tuned! And eternal thanks for listening to my music!