---
DJ Laptop stands have become a vital part of many DJ's kit list. In this post we will look at just a few of the best DJ laptop stands on the market.
When writing this post we took many factors into consideration including the weight, size, stability, portability and strength of the stands. We also considered air-flow to prevent your laptop overheating and extras such as cases and warranty options. Find our top laptop stands for 2018 below.
Crane Stand Plus Portable Collapsable DJ Laptop Stand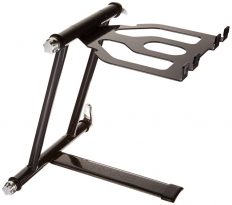 The Crane Stand Plus is our top pick, it's a great bit of kit. The stand is fully adjustable, lightweight and portable. This stand can be used with a variety of different devices (Laptops, DJ controllers, midi controllers, lighting equipment etc and can be folded up or down in a matter of seconds.
MORE INFO / BUY FROM AMAZON
---
Griffin Elevator Computer Laptop Stand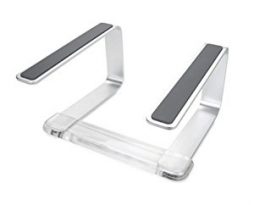 If you have seen a few DJ's using laptops in clubs then you are more than likely to have come across a Griffin stand before. These laptop stands are extremely popular amongst DJ's because they are strong, light and very easy to carry around.
These come in a little cheaper than the Crane stands but are not adjustable or quite as versatile.
MORE INFO / BUY FROM AMAZON
---
Gorilla GLS-01 Laptop Stand / DJ Laptop Stand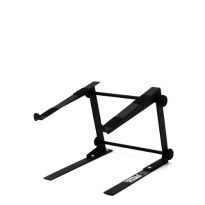 This hard-wearing laptop stand comes with a full lifetime warranty so you know it won't let you down. This is one of the cheapest stands on the market and does its job perfectly.
One major drawback is that it does not fold flat which can be annoying if you are touring or planning to move your kit around often. This is perfect for a home set-up.
MORE INFO / BUY FROM AMAZON
---
Magma 75527 Vektor Laptop Stand with Pouch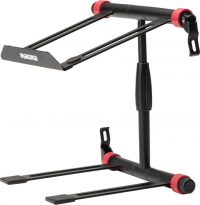 The Magama laptop stands are also a great option for DJ's. They can be used to raise laptops or other DJ equipment (Controllers etc). Strong, portable and stylish. You won't go far wrong with this stand.
We like how adjustable this stand is and it's of course, a big benefit that it folds totally flat in a matter of seconds.
MORE INFO / BUY FROM AMAZON
---
We hope this post helps you make a decision on which laptop stand to buy for your DJ set up. If you are still looking for more equipment to complete your DJ set up we recommend checking out the posts below:
If you think we have missed out the best DJ laptop stand on the market please send us a tweet @Soundplate!