The quality of headphones for listening to lossless audio and the latest Dolby Atmos technology has seen an immense advancement in recent years.
This follows the addition of high-defination audio on platforms like Tidal, Amazon Music and Apple Music.
With this ever-growing demand from audiophiles, manufacturers have been developing increasingly immersive sound experiences by incorporating high-definition audio features into their products. So if you're looking for a pair of headphones that will provide a truly remarkable listening experience in 2023, then this guide is here to help.
We've rounded up the best headphones available in the market right now that offer superior sound quality with lossless audio and support for Dolby Atmos tracks.
Our selection includes models from renowned brands such as Sennheiser, beyerdynamic and Sony—all equipped with advanced technologies so you can enjoy your music with clarity no matter where you are.
if you are unsure what Lossless Audio or Dolby Atmos is, please skip to the end of this article where it's all explained!
The Best Headphones for Lossless Audio & Dolby Atmos Listening in 2023
Without furhter ado, here our top picks for headphones that support lossless audio and/or Dolby Atmos listening.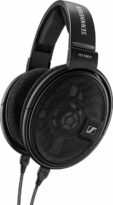 The Sennheiser HD 660 S headphones are an impressive addition to any audiophile's collection and great value for money for such an impressive bit of kit.
With their open-back design and lossless sound quality, they provide a unique listening experience that many music fans can appreciate.
The HD 660 S are designed for maximum sound accuracy and detail for every kind of music. Additionally, their lightweight build ensures that even extended wear is comfortable.
For those looking for a high-quality listening experience, the Sennheiser HD 660 S offers superior audio without compromising on comfort or convenience. These headphones are capable of producing an accurate sound signature with no compromise on bass or treble frequencies, allowing listeners to enjoy all kinds of music in crystal clarity with no distortion.
More Details / Buy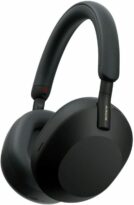 The Sony WH-1000XM5 headphones are fantastic, and they have been tested to provide listeners with an impressive audio experience.
These headphones allow users to enjoy music with remarkable clarity, thanks to its use of lossless audio quality when using a wired connection. These headphones also double-up as awesome wireless bluetooth headphones when on the move, or when lossless is not as important.
The WH-1000XM5 will ensure you never miss out on any of the details that make up your favorite sounds. The sound quality is further enhanced through their signature HD Noise Cancelling Processor QN1 and dual noise sensor technology which help reduce ambient noise levels when listening wirelessly.
On top of it all, users can expect up to 30 hours of battery life even when using wireless features like ANC (active noise cancellation).
More Details / Buy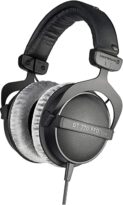 The beyerdynamic DT 770 PRO Studio Headphones offer a great value for budget conscious music producers and audiophiles. They provide lossless sound quality with excellent clarity and depth, making them ideal for studio and home use. The headphones are comfortable to wear, lightweight and well-padded, making long recording sessions more bearable.
The design is quite basic yet attractive with its black matte finish. The included cable is thick enough to withstand regular studio use, however if you prefer wireless then these headphones do not offer Bluetooth connectivity.
More Details / Buy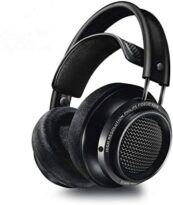 The Philips Fidelio X2HR Over-Ear Headphones are designed for audiophiles who demand the highest quality audio with lossless sound. These headphones offer premium comfort and a 40mm Neodymium driver that ensures powerful bass and clear treble, as well as full range sound.
The open back design allows you to enjoy an expansive listening experience while maintaining a full frequency response and accurate tuning. Additionally, these headphones have been optimized to provide high resolution sound with Dolby Atmos support for an even more immersive experience.
The Philips Fidelio X2HR also features specially designed ear pads made of breathable memory foam for maximum comfort, allowing you to wear them for hours without fatigue or discomfort.
More Details / Buy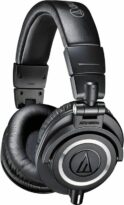 Audio-Technica M50x headphones are a sound investment for anyone looking for a budget-friendly set of headphones for lossless / Atmos audio. These wired headphones offer superb sound quality and plenty of features that make them stand out from the competition. The 45mm drivers deliver deep bass, detailed mids, and crisp highs that bring your music to life on the go.
The M50x's sleek design is comfortable to wear and ensures minimal noise leakage so you won't be distracting others in quiet environments. The swivel earcups also make them easy to transport around and store away when not in use.
More Details / Buy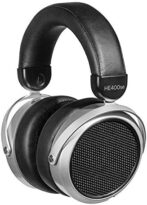 HIFIMAN HE400SE headphones have been hailed by audiophiles as one of the best options for listening to lossless audio. These open-back headphones offer exceptional sound quality and a comfortable fit, making them ideal for long listening sessions.
The HIFIMAN HE400SE headphones feature ultra-thin diaphragms, which deliver subtle details with excellent clarity and accuracy. The neodymium magnet system ensures that the sound delivers an accurate representation of the source material, providing a full range of frequencies from deep bass to sparkling highs. The earpads are made from soft velour fabric, allowing you to listen in comfort and without feeling any pressure on your ears. With their light weight and adjustable headband, these headphones can be worn for extended periods without fatigue or discomfort.
More Details / Buy
Lossless Audio Explained – What is Lossless Audio?
Lossless audio has become increasingly popular in recent years, with the rise of high-definition streaming services like Apple Music & Amazon Music. But what is lossless audio and how does it differ from its counterpart?
Lossless audio is a form of digital encoding that preserves 100% of the original recording's sound quality. This means there is no degradation to the master recording when compressed or converted into another format. Lossless formats such as FLAC and ALAC (Apple Lossless) are becoming more widely used among music streaming services, including Apple Music.
By comparison, mp3 files are lossy meaning data is removed during the encoding process resulting in reduced sound quality. With the right gear, you can now stream music online with the same sound quality as physical CDs.
Dolby Atmos for Music Explained
Dolby Atmos music is revolutionizing the way we experience sound. This new audio technology, is available for selected albums through Apple Music. The 'Mastered for Doby Atmos tracks', create a 3D soundscape that brings music to life like never before. By combining height channels with traditional stereo and surround channels, Dolby Atmos allows sounds to move around you in an incredibly immersive and realistic way. Whether it's the deep growl of a bass or the subtle whisper of wind chimes, Dolby Atmos brings realistic depth and clarity to your favorite tunes.
Using object-based audio technology, Dolby Atmos can precisely place sounds within a three-dimensional space instead of just two dimensions as in traditional surround sound systems. This means that instruments and voices can come from any direction – above or around you – for an unparalleled listening experience. There are currently less options for good headphones on the market that support Atmos sound, but we have found some good options!
Where can you stream lossless music online?
We are expecting the Spotify HiFI plan to launch soon but for right now the best options for high-definition stremaing are Amazon Music & Apple Music.
Lossless Audio on Amazon Music
Amazon Music Unlimited
is a brilliant option for lossless audio streaming. Now, music lovers can enjoy Amazon's library of over 50 million songs in crystal clear quality with no compression. An added bonus is that you can get a
free trial
 to test it out and see if it's right for you.
This level of sound quality far surpasses anything offered by most streaming services and is comparable to any CD on the market today.
Try Amazon Music
Lossless Audio on Apple Music
For the audiophiles out there,
Apple Music
is now offering a great deal on lossless audio streaming. Lossless allows listeners to enjoy their favorite music in its original form and without any data being lost during transmission. Start a free trial now!
In addition, Apple Music also offers Dolby Atmos audio for eligible songs and albums. Dolby Atmos creates a three-dimensional soundscape that takes you into the artist's world. This immersive listening experience immerses you into your favorite song like never before and makes it feel like you're in the room with your favorite artist or band. All of these features are available at no additional cost on the subscription plan. Apple Music have been pushing some great new features including additional tools for artists, animated music artwork & new editorial playlists, it's a great time to check out the platform.
Try Apple Music
Need More gear?
Check out our gudio to the best monitors for your home studio and find loads of other great buying guides on the Soundplate blog!