---
7 books every DJ, aspiring industry professional should read in 2017.

Whether you are off on holiday this summer or just looking for somthing to read on the daily commute, we have got you covered with this list of essential reading for house music fans, DJ's and music professionals.

The books featured in this post cover a wide range of subjects from DJ's life stories to the more technical aspects of being a DJ or having a career in music. There are books about house music, books about club culture, books about Djing and more..

All of these music books are well worth a read so get stuck in!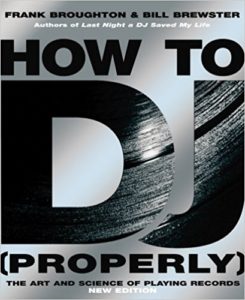 How To DJ (Properly): The Art And Science Of Playing Records

This is possibly the ultimate book for aspiring DJ's. It's been around for a few years now and to this day it's one of the best resources for people hoping to learn the skill of how to DJ (properly). Easy to read, easy to understand and extremly well written. If you want to become a DJ, read this book.

Buy This Book Now.
---
Creation Stories: Riots, Raves and Running a Label

Founder of the world famous, Creation Records, Allan McGee, tells his story in this captivating book. The book tells his life story including the highs and lows of running his label, nightclub, the birth of acid house and his personal struggles with addiction.

Buy This Book Now.
---
Last Night a DJ Saved My Life (updated): The History of the Disc Jockey: 100 Years of the Disc Jockey
This cult classic of a book is an essential read for any music fan or anyone with an interest in DJ culture. Track the history of DJ's through the years. This book is full of interesting facts and stories that will entertain and inspire you. You will never look at a DJ or nightclub in the same way again after reading this brilliant book by Bill Brewster and Frank Broughton

Buy This Book Now.
---
The Hacienda: How Not to Run a Club
One of the most entertaining music books I have personally ever read. A great story of mistakes and dodgey business ventures in the music industry!


Buy This Book Now
---
They Call Me Supermensch: A Backstage Pass to the Amazing Worlds of Film, Food, and Rock'n'roll

If you want to become a music manager, read and watch everything you can on Shep Gordon. The legendary manager's book is as entertaing as it is inspirational, I'd personally suggest reading this before watching the documentary (which is also brilliant). This is out must-read book for entertainment / music managers everywhere.

Buy This Book Now
---
Dust and Grooves: Adventures in Record Collecting
This is more of a coffee table book than a read for the train but it's fasinating all the same. Take a peek inside the world of record collectors. Beautiful phootgraphy and insightful text make this book a perfect present for any music fan or vinyl horder!

Buy This Book Now
---
House Music.the Real Story

Chicago's Jesse Saunders tells the true story of house music. As a great producer and big part of the scene his first-hand account of the hstory of house music is pretty special. He holds no punches and says it like it is (or was), the good, the bad and the ugly of the early house music scene.

Buy This Book Now
---
Superstar DJs Here We Go!: The Rise and Fall of the Superstar DJ
This book was written by the former editor of MixMag, Dom Phillips, a man who knows a thing or two about DJ and club culture. It's a fanstic read that follows the ups-and-downs of some of the world's biggest dance music stars through the 1990s.

Buy This Book Now
---



Have we missed your favorite book about dance music? Please leet us know by sending us a tweet @Soundplate.