Claptone is on fire right now, fresh off the back of the release of his third studio album 'Closer' and in the middle of an epic Ibiza residency we managed to pin the masked man down for a quick interview…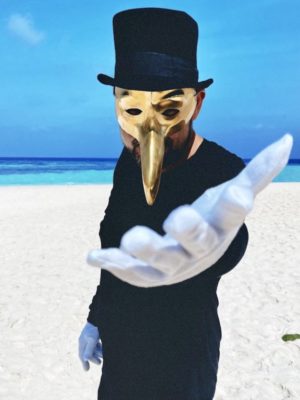 Introduce yourself and tell us where you're from..
I am Claptone, DJ and Producer of House music. I come from this very planet and travel it relentlessly to play music and make people happy.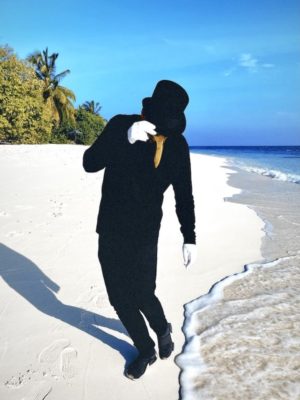 Your mask has become an iconic symbol in dance music, can you tell us a bit about it.. What was the inspiration behind it and why did you originally decide to be a 'masked man'?
It's a golden Venetian mask with I was given centuries ago and after I put it on, never took it off again. I think it showed me the way, guided me towards the music I produce now. Having a certain glitz and style, a rich history, a strong social function. The mask represents all that for me. But I like to keep it open for interpretation, meaning everyone can read into the mask what they feel is written in it.
How protective of your real identity are you, how long before you play do you put the mask on, are you chilling backstage in your mask too?!
There is no Claptone without the mask. That mask is my visual representation, my face so to speak. And yes I eat Ice cream and Champagne in the backstage wearing my mask.
Speaking of masks..  'The Masquerade' in Ibiza has become a staple of the summer season. What makes your Saturday night parties at Pacha so special and which guest DJ's are you most excited about playing alongside this season?
There's so much to be excited about!
First off It's an honor for me to define and re-define what the legendary Pacha stands for musically. The club itself looks fresher than ever and has quite a few visual surprises in store. We worked on new costumes and outfits for our mind blowing dancers and performers (stilt walkers, areals etc. pp.) and last not least we have a great DJ line up to support that unique vibe of 'The Masquerade' as an open minded history fuelled but ever new and fascinating house music night.
I try to curate a party that makes you smile, actually dance and have a great time where you can be yourself or someone/something you have always wanted to be. The music is House in all it's beautiful colors and the musical programming doesn't allow for monotonous or boring.
Colorful has always been my favourite colour, hence I invited legends like Fatboy Slim, Kerri Chandler, Armand Van Helden to share decks with Nora En Pure, Purple Disco Machine, John Summit, Dom Dolla and Claptone on every Saturday of course. There's many more I didn't mention so check out www.pacha.com for more info and your tickets. My goal is to have everyone experience that special vibe of 'The Masquerade' in the iconic club on the island.
What's on your rider, anything unusual?! 
Yes well some bottles of Champagne of course, non plastic bottle water, local beers and lots of unusual drinks like Kombucha and Coconut and are on there as well, not sure how that happened. Fruits and nuts, cause sometimes you are in such a rush that you can't get a proper meal.
And – to let you in on a secret – soon I'll my very own 'Spectacle' Gin, but first I need to launch that….
You have collaborated with some huge artists. Do you have a favorite collaboration or remix and why?
Even though there were some groundbreaking remixes like 'Liquid Spirit' for Gregory Porter or 'Cold Heart' for Elton John and Dua Lipa, I personally rate certain others that might now have been that successful amongst my favourites. I am still super excited about my remixes for 'People on the High Line' for New Order, 'You got the Power' for Gorillaz, 'You Ain't the Problem' for Michael Kiwanuka or 'Aquarius' for Metronomy. And there's even remixes that never saw an official release like 'Baby you make me Crazy' for Sam Smith or have only been promoted by the label like 'Going Backwards' for Depeche Mode which I consider masterpieces.
As for a collaborations I do enjoy working with big names and legends but mainly it's about the voice, the vocal talent singers bring to the table and looking at my recent album 'Closer', I can say that I love 'Queen of Ice' with vocals by Dizzy as much as 'Just A Ghost' with Seal.
It really comes down to the songs and the vocalist. A favourite collaborator over all my albums has been Nathan Nicholson though. You can find songs with him on every album and they are always very strong deep and meaningful to me. 
Your third album, 'Closer' dropped at the end of last year and features a string of super high-profile collabs. Was the album recorded over the lockdown period? What was the process of putting that album together like? 
I worked on the album for three years and recorded most of it before lockdown. But I spent a crazy 8 months on the final production with producer legend Stuart Price (Dua Lipa, Madonna, Pet Shop Boys, Killers) during lockdown.
He worked from Los Angeles and me from Berlin via virtual studio links on post production and fine tuning. I am thankful for all that time we had to work on details and even to discuss the state of the world and almost solve all the problems of mankind. It's been pure joy working with him. 
The Claptone sound has evolved over the years, is there anything or anyone that's been particularly instrumental in the changes in your production style and sound?
Music changes and that's a great thing, because it stays exciting and mysterious that way. For me it'd be boring to just repeat yourself over and over again. The trick is not to lose you compass, understand what makes you musically but keep it fresh by changing it up, doing unexpected things. That's great for you as an artist but also for your audience.
Your new single, 'Calabria' is set to be another summer smash, what inspired you to breathe new life into such an iconic song and are there any other classics you'd like to get your hands on?!
After an album with 14 amazing brand new vocal songs, working and writing with Seal, James Vincent McMorrow or Barry Manilow I wanted to take it back to the club. Celebrate house music and pay homage like I did with 'The Drums (Din Da Da)' and 'Drop The Pressure'.
For me making music is also about balance between putting out original material and once in a while taking on a real classic, covering it with style and grace. It won't be Claptone if it'd only be the one or the other.
Finally, with the Ibiza season back in full swing and new music on the horizon, what are you most looking forward to for the rest of 2022?
Well that season is long and reaches into October. After 'The Masquerade' closes shop on the island we'll be taking the event back on the road, planning to do lot's of events in South America and the US. basically trying to bring the vibe and feel of 'The Masquerade' to where the people might not have had a chance to drop by Pacha Ibiza during summer.
---
Claptone's new single, 'Calabria' is out now on Defected Records. Click here to stream it now.