---
Deezer has been one of our favorite music apps for a while now, in fact we recently started to support Deezer on our playlist submission system.
Now with their latest upgrades Deezer are beocming more compeitive than ever.
Just a couple of weeks back they revealled their own Shazam style, song identification feature which helps you find out what track is playing and adds it to your playlists or favorites so you can listen to it again later.
Today, they have made another big step forward by upgrading their signiture 'Flow' feature.
Flow is your personalised soundtrack: it's a lean-back and listen feature that recommends a mix of  current songs, new releases and your old favorites in one infinite stream that is tailored to your tastes. This latest upgrade takes that same concept but makes it even better, here's how:
Flow's new easy-to-swipe carousel format now includes three "inspired by" tracklists grouped by similar artists and a "discover" tracklist for fans that want to hear new artists or tracks.
Users can swipe right to hear a daily "inspired by" tracklist or listen to new weekly "discover" tracks. Users can add tracklists to their playlists or create a new one right inside the app.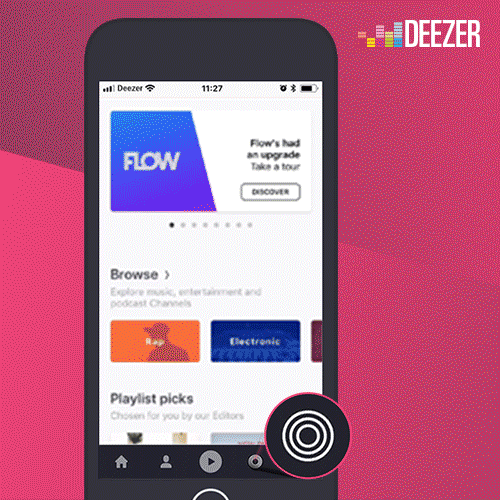 "The new Flow Tab evolves our user experience and provides people with more lean back options than ever before. It's never been easier to choose which direction your Flow will take you, and to enjoy life to your personal soundtrack,"
– Alexander Holland, Chief Content and Product Officer.
If you have not yet tried Deezer get a 30 day free trial of their Premium+ service by clicking here.
Artists, you can now submit music to Deezer playlists on Soundplate.