---
DVBBS have been killing it for a while, garnering platinum certifications and billions of plays, they have collaborated with artists such as Blackbear, Wiz Khalifa, 24kGoldn, Galantis, Martin Garrix, Icona Pop and many, many more. We caught up with them for a quick chat to find out whats happening for them in 2022..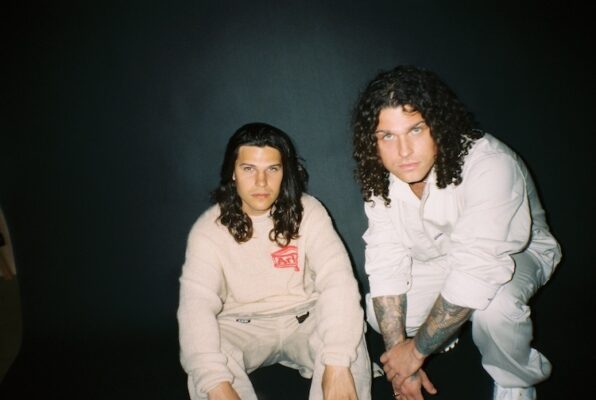 Introduce yourself and tell us where you're from..
Alexandre and Christopher van den Hoef.  We were born in Montreal, lived in the Netherlands and Greece the first 7 years of our lives and grew up in Orangeville, ON.  Now we live in Los Angeles.
A lot of people would have first discovered your music when 'Tsunami' dropped in 2013, that song has now been over a billion times, can you explain how big an impact that period had on your career?
We went from playing shows for 50 people to headline shows and festival shots for 50,000 people.  It all happened very quickly, we were honored to get to travel the world and perform in our early twenties. 

Fast-forward from there, your career has skyrocketed. You've played some of the biggest and best clubs and festivals in the world. Is there a particular festival or gig that stands out as particularly special to you? 
We've played many amazing festivals all over the world. However, Argentina lollapalooza really stands out because it was a little different than the rest. Our slot time was at the same time as the legends the red hot chili peppers. We show up at our stage around five minutes before and quickly see that there's about 100 people. So right off the bat we're thinking this might be our worst show ever. Well maybe not ever but in the past decade. Seen that our tour manager was Puerto Rican and spoke fluent Spanish we told him to start announcing every minute before the show that DVBBS was about to go on and play a crazy set that no one would want to miss.  Slowly but surely people start coming from his announcements but still our first song there was maybe 1000 people in this massive area. We started playing and within five minutes it went from 1,000 people to 10,000 people to 15,000 people in by 30 minutes and there must've been at least 25,000 maybe more and the energy was on a different level. It went from possibly being the worse show ever to the best.

What's on your tour rider, anything unusual?!
Our tour rider used to have all sorts of stuff on it like Nike's and lots of alcohol.  These days it's predominately healthy snacks, drinks and earplugs. 

We all know, it takes a great team to build an artist career. Can you tell us a bit about your team and how it's formed over time? At what stage did you take on management/an agent?
We took on artist management in 2012 and have been with the same manager since; Josh Herman – STRVCTVRE Artist Management co. 
Our team is very small and close in constant communication.  We're always talking all day and night strategizing and executing plans.   We've had a few great agents over the last decade, and we had an Agency before we brought on management originally.   

Do you have any advice for up-and-coming artists trying to get their DJ/production career off the ground?
Take your own lane! Don't worry about what other artists are doing around you focus on yourself.

For your new single, you have collaborated with Imanbek, how did that collab come about and what makes this song so special?
We wanted to work with Imanbek or a long time.  His management are good friends and we had sent over and idea.  They loved it and Imanbek went into studio and quickly sent us back 'Ocean Of Tears' and we loved what he had done and the collab was finished very fast.  We then just waited for busy release schedules to align.
You have collaborated with some huge artists, do you always work in the room together or do you collab online? What makes a good collaborator and why is working with other talented artists so important to you?
Very often we're sending music and versions back and forth.  It's always great to get in the same room but with busy touring schedules and different artists around the world it can be challenging. 

What's next for DVBBS, anything we should be looking forward to?
We just finished an album and we're going to start releasing a few singles from it this year.  It's our first independent album of our career, so we're very excited to share it.