Distortion is a collection of street parties and events that runs throughout the city of Copenhagen.
Over 100,000 people will come to the Danish capital for a week of 'orchestrated chaos'.
Distortion has a sprawling multi-genre lineup to soundtrack street parties all over the city that compliment its two day, localised Distortion Ø festival. This years Distortion Ø will feature: Adriatique, Ben Böhmer, Elkka, FJAAK, Four Tet, John Talabot, Kölsch, Satori, Todd Terje, WhoMadeWho and many more!
We caught up with Nis Sigurdsson who is part of the festival team to find out more.. 
Hey Nis, please Introduce yourself & tell us a bit about what you do..
I am head of music and head of communication at nusnus, which runs many projects around Copenhagen –the most famous being Distortion which is a mixture of sound systems in the streets, raves on a industrial site and in clubs.
Distortion has a super interesting story, please tell us a bit the history of the event and how it's evolved
It used to be very experimental and ultra mobile. From 1998 until 2013 we had decided never use the same location twice. It was absolutely insane finding a new location for a festival every year. I was kind of a bad ideas that creates a special vibe with the co-promoters and the crowd. The rest is history.
From a small party to a crazy week-long series of events, what is it that has set Distortion apart and allowed it to grow in such a unique way?
Our festival founder is actually from Paris. He can see the magic of Copenhagen and of Danish society as an outsider. And he has a great way of pushing the local government to its limits in order to make the Copenhagen more fresh.
The past few years have been incredibly challenging for the events industry, how have you coped with the pandemic and lockdowns. Please also tell us anything positive you are taking away from the last few years..
In the summer of 2021 we managed to open a electronic music venue in Copenhagen called Hangaren. Because of corona regulations we couldn't do it the normal way. But it turned out very nice anyway. We used the venues backyard and made open air daytime parties and the crowd were dancing like animals at 7pm. It's kind of a new thing in Copenhagen and we're very proud of it.
The lineup for 2022 looks incredible, tell us a bit about your process for curating the perfect party lineup and who you are personally looking forward to checking out in June..
Kölsch will be fun he was playing super small street sound systems and mobile sound systems at Distortion back in 2002. Now he has become an international superstar with a so much positive energy behind the decks. Distortion is a network festival with a lot of events. So a lot of the work is done together with local co-promoters. So we have so many eyes and ears out there hoping to find great new electronic music.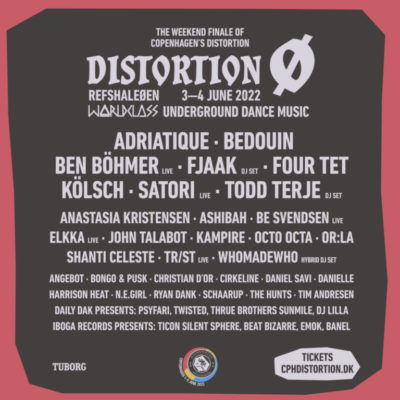 What makes Copenhagen the perfect location for the event, and whats the music scene there like the rest of the time?
Copenhagen could be the perfect size for a city. Big enough that you can keep being surprised and small enough that everything is accessible and safe. Not so many years ago the city still had a lot of abandon spots and and former industrial harbour where you could do events. That is a perfect fuel for thriving music scene. 
Thanks so much for your time Nis and we hope to see you on the streets of Copenhagen in June!
Find out more about Distortion and get tickets by clicking here. 
(Homepage photo credit: Evald Munksgaar)