If you are a loyal music fan, you have no doubt seen bands or artists asking you to pre-save their music on Spotify, but what exactly is a pre-save, how does it work and how do you do it?
What is a pre save on Spotify
A pre save is like a pre-order but for the streaming era.
When you pre-save a song you are asking for it to be automatically added to your Spotify library on release day.
How to pre save an album on Spotify?
Although widely used in music marketing, pre saves are not actually an official Spotify feature so bands and artists use third-party tools like Soundplate Clicks to set up their pre save campaigns.
When a band asks you to pre-save their music you will be sent to a link that looks something like this:
When you click the Spotify pre-save button you will be asked to log in and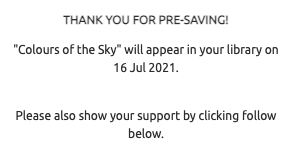 agree to some terms/permissions. From there everything happens automatically. You will see a confirmation message to let you know the pre-save has been accepted and on release day you will get the new music delivered to your Spotify library.
Why do I have to log in to Spotify & give permissions to pre save a song or album?
Spotify, Apple Music, and Deezer pre save tools are built using something called API's. In order for the app to deliver the music you have asked for, you will need to log into Spotify and connect to the app.
The permissions screen looks something like this: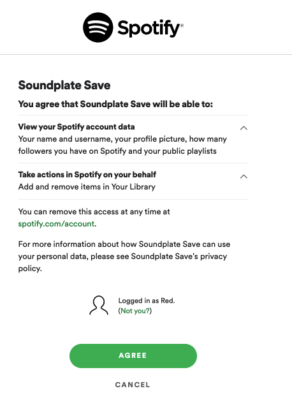 By clicking agree on this page you are allowing the app to add the song to your account on release day.
Read these permissions carefully as some apps will also be asking for other data such as your email address or birthday. (Soundplate Clicks only ever asks for the exact permissions needed to pre-save your song).
How else can I support an artist on Spotify?
Followers on Spotify are actually more important to artists than pre-saves, if you love an artist follow them – it's a massive help!
You can also add their songs to your playlists and share their music on your social media.
Are pre saves an effective music marketing tool?
Pre saves can help give a song or album a boost on release day and are a good signal for the Spotify algorithm that people are interested in music but ultimately unless you are an established act with a large fan base, it's probably best to save your marketing dollars for promoting your music fan link after the release day.
Our top tip for artists: Instead of stressing about how many pre-saves you have, work on getting more followers on your artist page. Providing you have pitched your song in Spotify for Artists at least a week before release day, all your followers will see your new music in their 'Release Radar' playlist, which is much more visible on the Spotify homepage than their saved tracks.
Spotify followers are also a great signal for the algorithm and are worth much more long term than a single pre-save.
How Can I Create a Pre Save for my song:
1. Create a new link
2. Set the release date to a day in the future
3. Activate the pre-save option further down the page (no links are required) – you should also upload your artwork etc.
4. On release day or anytime before come back and enter the public Spotify/ Apple Music link and anyone who has pre-saved will get your music.
There is a video tutorial walking through this process here if you get stuck: