---
We interview HUGEL. The Marseille-born artist, is best known for 'I Believe I'm Fine', the Gold-certified collaboration with Robin Schulz. His remix of the El Profesor track 'Bella Ciao', a viral sensation that has clocked up a massive 163 million Spotify streams. Hugel has also worked with some of the industry's biggest names including Post Malone, J. Balvin, David Guetta, and Charlie Puth, and performed at the likes of Tomorrowland, Mysteryland, Lollapalooza, and Parookaville.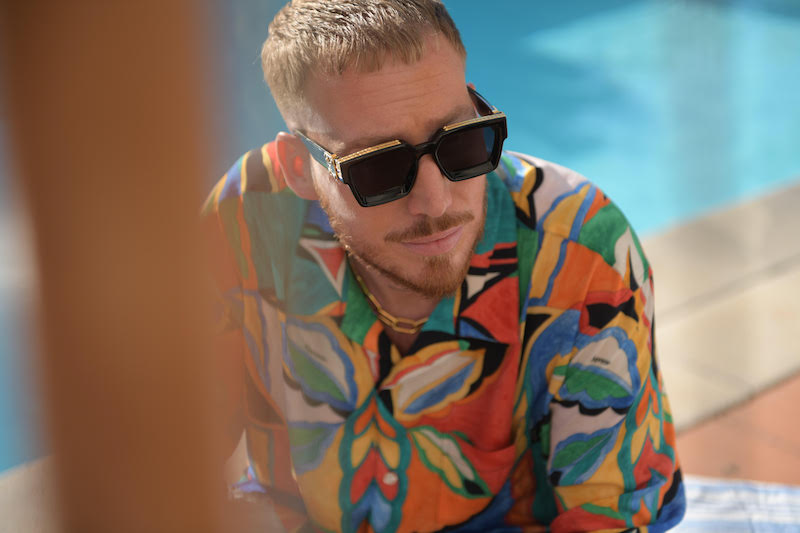 Introduce yourself and tell us where you're from and what got you into music in the first place..
My name is Florent HUGEL I'm French. Born and raised in Marseille.I grew up with music because of my parents. They were listening a lot of records. My mom was really into funk disco soul and jazz. Later I discovered hip hop and rnb when I was recording my own cassette with the radio. (I was selling them at school) cause they were dope ahaha.
I became a DJ by the age of 16 years old and I really wanted to produce my own records by the age of 17. Since then I never stoped…
Tell us about the new single, 'Back To Life' – how did it come about & what inspired the song?
Well I guess the title speaks for itself. After one year and a half not touring, lockdown after lockdown, I wanted to create an anthem to celebrate the return to parties. As you probably know I'm not a musician. I can't play instrument that's why I used to sample a lot. For this anthem I wanted to use a melody that everyone know (Beethoven – La lettre à Elise) But adapted to a dance tune. That's how we came up with that drop.
What else have you been working on recently?
I'm so exited to go back on tour that I'm producing a lot of club bangers. I have this House tune called 'Morenita' who is making the girls dance worldwide at the minute.
Let's talk about your creative process, whats a day in the studio with HUGEL like?
Well a lot of fun ahah
Usually I bring an idea to the session with samples or my own session then we start to build from there. I love working with real musicians, I think we complete each other very well.
What is your favourite piece of music equipment and why?
I would say it is my keyboard Komplete Kontrol for the simple reason that it has been made for people who doesn't have music theory, and have a light system that help a lot to create chords.
Name one person who has had a big impact on your music career and tell us how they have helped you..
Dr Dre is my biggest idol as a producer but also as a business man. Guys like David Guetta, Axwell or Calvin Harris has also been a big influence.
Watching the way they develop themselves helped me to understand how to become international. This is how I found a manager in Germany, being a guy from Marseille.
Do you have any advice for new artists and do you still get nervous before playing to a crowd?
The best advice someone gave me is to stay true to yourself and do what you love. Don't try to be someone else but try to find out who are you.
I always get nervous before a show. If one day I'm not anymore, it means I have to quit.
My way to cope with it is just to start playing and after 2 songs I feel amazing !!
What's on your tour rider?
I think I have a lot of water cause I can't drink when I'm touring. I also have bunch of fruits and sushi cause it's a nice dinner when there is nothing to eat in a festival ahaha.
I also have all the alcohol in the world for my guests when they join me on tour so feel free to join us one day if you wanna live a real experience ahahahh
Where can people find out more about you and your music?
Well the first thing is my instagram @HugelThug and then Spotify, Youtube, Soundcloud…