In this interview we speak to Grammy nominated singer/songwriter Kelli-Leigh about her career, the importance of good management and her new Christmas single 'Unwrap My Heart'.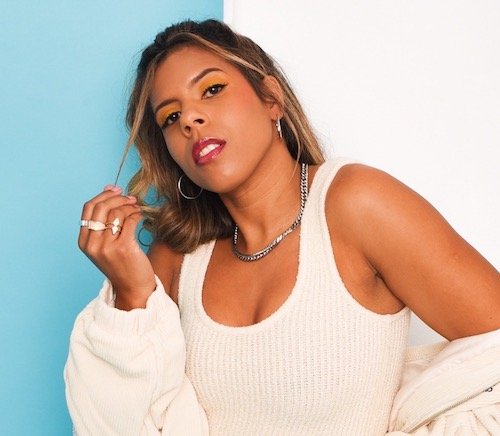 Hey! Please introduce yourself and tell us where you're from..
Hi i'm Kelli-Leigh and i'm from South London.
How did you first get your start in music? Can you tell us a bit about your music origin story?
I've loved music since i was a kid, it was the only thing i ever wanted to do. I went to Brit, was in the same class as Leona Lewis, Luke Kooks & Katie Melua. I got my first break performing in function bands, then session work recording demos for a songwriter which then led onto recording dance records and the rest is history.
A lot of your early work was as a session singer. As house music fans, we of course remember your voice from countless dance hits. Was it always your ambition to step into the spotlight and become a solo artist in your own right, how difficult was that transition?
Yes it has always been my dream to be my own artist and i've been writing songs since I was young, however coming from a working class background you have to work where you can to pay your bills and grow from there so I wasn't able to financially back myself as an artist until later in my career.
The transition was hard as when you're seen as a certain thing in the industry (BV/Session Singer/Featured singer etc.), you have to convince people that you are more than what they have boxed you into and that takes a lot of self belief, digging deep and claiming your dream, your own space & your own artistic identity.
What advice can you offer other singers working with producers as session singers or featured artists. How important is being properly credited for your work?
Be aware of what the terms are before you agree to anything. Don't be afraid to ask what the recording is for and what the intentions are for a record you are involved in. If you'd like to purely focus on the creative process make sure you have a manager or representation who is looped in with the producer and their team to query any concerns/make an agreement for the use of your work.
This year, you have released a string of great commercial-dance tracks, how have they been received? Is their one track from 2022 you are particularly proud of?
I'm particularly proud of 'New Chic' it was my first release this year and my first release going back to being Independent after my 1st major label signed single the year before. It was rejected by the A&R however received a Spotify cover of New Dance Revolution and was supported and playlisted by Captital Dance, Kiss FM & Radio 1.
You're currently promoting a Christmas single! That's a bit of a step-change from the dance records, is this something you've always wanted to do? How did it all come together?
I released my 1st Christmas record 'Underneath The Tree' last year which I wrote with St Louis. I absolutely loved the process of writing that record, it was so much fun to write with all the gorgeous chords and the epic BVs and 3 key changes. I felt like I got to breathe and exercise my creativity with that record so I wanted to do it all again this year and put it together with an EP. It does help that Christmas is my favourite time of year ha!
What inspired the 'Unwrap My Heart' in the first place, have you always been a big fan of the Christmas classics?
I just loved the concept of using wrapping which is synonyms with Christmas and present giving and having someone come and 'Unwrap My Heart' in a sweet romantic wistful way. I also couldn't believe no one had thought of it when we googled the title just incase it had been done! Then it was case of building the visual story behind this person hoping santa will bring them someone special for Christmas.
Having worked with so many stars in the past, have any of them given you any unforgettable advice or wisdom you can share with us?
I'll never forget when Leona (Lewis) said to make sure to have good management.
I've had some ups and downs with that over the years and i always think back to her advice. Your management truly is an extension of you, the artist so you want someone who is honest, caring, strong and has your best interests at heart. It's your career you are trusting someone with at the end of the day and a bad email, phone call or meeting can potentially hinder or ruin future opportunities for you as an artist. At the same time you need someone who isn't afraid to stand up to bullies in the industry who will try and get something out of you because they are higher up. It's the most important relationship you'll have in your business career.
Looking forward, what does 2023 hold for you, will you be returning to Ibiza again, any other exciting projects we should look out for?
I'm looking forward to heading out to LA in January for some sessions to celebrate my Grammy Nominated writers credit on Diplo's album with 'Forget About Me' which I co-wrote with Aluna. I've also got several collabs which will be dropping early in the year so looking forward to those out before continuing with my single release.
'Kelli-Leigh – Unwrap My Heart' is out now on all good music platforms and limited edition vinyl.