The major record labels control around 70% of the global recorded music market, but who are they? In this post we explore the major labels and give you all the information you need!
How Many Major Labels Are There in 2021?
There are currently three major label groups.
What Are the Major Labels in 2021?
The three major record labels today are Warner Music Group, Sony Music, and Universal Music Group.
Which Major Labels Are The Biggest?
Universal Music Group are currently the biggest label in the world. You can see the market share of each of the major labels in the chart below: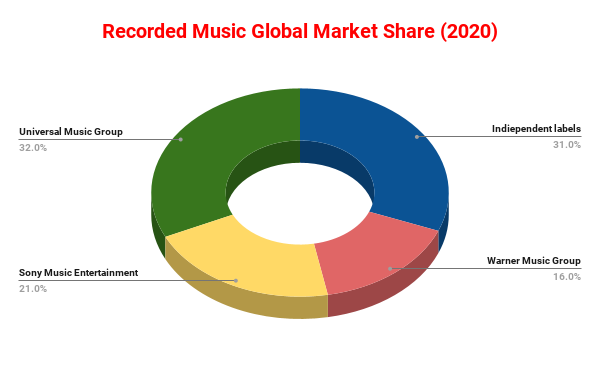 Indie Labels vs. Major Labels
As you can see from the graph above, the independent sector is also a major part of the music industry. The indie sector is made up of thousands of smaller labels and distributors. While this post concentrates on the big three it's worth keeping in mind that there are also thousands of successful artists signed to independent labels or working without a label.
How To Get  A Job With a Major Record Label
If you want to work at a record label, you will need to be able to prove you passion and dedication to the specific music industry job you are applying for.  Many people get their start with a music industry internship, others find their way in by networking or gaining experience in the independent music scene first.
You can find record label jobs and other music industry jobs at jobs.soundplate.com.
How to get signed to a major label?
Major record labels are always looking for new talent, they have large A&R teams that scout and develop new talent but impressing them can be tough.
There is no easy way to impress major label A&R's looking for new artists and to get a record deal. The best advice, if you want to get their attention is to start building an audience and build some buzz around your music. There are many articles and music promotion tools on Soundplate that can help you promote your music.
These days, artists often get signed after they have shown some success independently with their recorded or live music. So don't wait for the deal, get started, build a fan base and let the labels & booking agents come to you!
Can I get an Advance without signing to a major label?
One of the big reasons artists want to sign to the majors is funding. Let's be real, if you are going to make it to the top, you are going to need some money to help you get there.
If you do not want to sign a record deal but need money to jump to the next step of your career, you can apply for an advance on your streaming royalties. Artists with at least 15k monthly listeners on Spotify may be eligible for an advance of up to 8 x their annual streaming revenue. Click here to find out if you are eligible for an advance. 
The 'Big 3' Major Labels
Warner Music Group

 (WMG)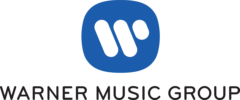 The Warner Music Group was formed in 1958 by Warner Brothers Records to purchase smaller independent labels as subsidiaries. Warner Music Group has been through many highs and lows in its history as major corporations have owned the company over the years.
Warner Music Group retains a 16% market share of the music industry with revenues of over $4.4 Billion dollars. Some well-known artists under this label include: The Doors, Pink Floyd, Led Zeppelin, Madonna, Wilco, and others.
Warner Music Group's subsidiaries include:
Atlantic Records Group (Atlantic, Asylum, Big Beat, Little David, Maybach Music Group, and many others)
Warner Records Group (Warner Bros., Nonesuch, Maverick, Sire, Reprise, RuffNation, and many others)
Parlophone Label Group (Parlophone, Chrysalis, EMI Columbia, EMI, Harvest, Regal, Pink Floyd (UK & EU only), and others)
Rhino Entertainment (Rhino, TK, Roulette, Del-Fi, Bearsville, Atco, and others)
Warner Music Nashville Group
Alternative Distribution Alliance
Elektra Records
Warner Chappell Music (music publishing group)
Sony Music Entertainment

Sony Music Entertainment was initially formed in 1929 as the American Record Corporation, later renamed the Columbia Recording Company. The company reorganized in 1966 and was renamed CBS Records. In 1988, Sony Corporation bought the company and renamed it to the current Sony Music Group.
Sony Music retains a 21% share of the music industry with revenues of over $7.8 Billion dollars. Sony Music artists include: George Michael, Michael Jackson, Bob Dylan, and others.
Sony Music subsidiaries include:
Columbia Records
RCA Records
Arista Records
Epic Records
Sony Music Nashville
Sony Music Latin
Legacy Recordings
Universal Music Group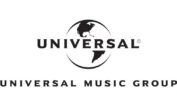 Universal Music Group (UMG) was initially formed as an American arm of Decca Records. Through many mergers and acquisitions, the current Universal Music Group was formally established with the sale of 80% ownership to Seagram in the mid 1990s.
The Universal Music Group holds a 32% share of the music industry with revenues over $7.1 Billion dollars. Current Universal Music Group artists include: The Rolling Stones, Elton John, Taylor Swift, Queen, Soundgarden, Tom Petty & The Heartbreakers, Steely Dan, and others.
Universal Music Group subsidiaries include:
Interscope Records
Geffen Records
A&M Records
Aftermath Entertainment
Capitol Music Group
Republic Records
Island Records
Def Jam Recordings
Caroline Records
Universal Music Group Nashville
Universal Music Latin Entertainment
The Verve Label Group
Universal Music Enterprises
Mercury Studios
Playlisting Brands Owned by The Major Labels
The major labels aggressively market their music to protect their market share. One tactic that has been vital to the major labels in the past few years has been playlist promotion. All of the major labels have their own Spotify playlist submission and curation strategies.
Amongst these strategies, is owning curation brands – some of the largest playlist / curation brands in the world are owned by the major labels including:
Digster (Owned by Universal)
Topsify (Owned by Warner)
Filtr (Owned by Sony)
THIS IS (Owned by Universal)
Getting on these playlists can be particularly difficult as they tend to focus on their own music but if you want to find playlists that are suitable for your music check out our free Spotify playlist submission system!
---