---
Learn how to make a good playlist & how to grow more followers!
Crafting the perfect playlist is an art. Getting the right song selection, title, look and feel for your playlist is vital. In this post we offer 5 tips to create and grow better playlists.
1 – Pick a strong theme or genre.
The first step for creating a great playlist is to pick a theme. Playlists that stick to one genre or a strong theme almost always out perform and become more popular than general playlists.
'New London HipHop & Drill Music' is better than 'The Best Songs 2021. People are much more likely to seek playlists that cater to the exact niche they like than they are to look up generic terms. Spotify's own official editorial playlists cover all the generic stuff anyway so stick to the niches!
Once you have decided your theme, stick to it!
2 – Write a memorable & descriptive title & description
The best playlist titles are unique (so easy to find in the search) and give the listener an idea of what to expect when they press play.
Don't try to be too clever or use any special characters as this will just make your Spotify playlists harder to find!
Your description should be written in easy-to-read full sentences. Keep it short and tell people what to expect if they follow your playlist. You can include some keywords (like the genre or some of the artists the playlist features) but don't go crazy and add a huge list as this looks spammy and will turn potential listeners off right away.
Check out this guide if you want to learn how to change the playlist name, artwork or description on Spotify. 
3 – Design the perfect cover art
You can change the playlist cover art on Spotify or Deezer.
Your artwork should be simple and clear. Make sure the title is in a large, easy to read font and in the center of the image.
Find out all the image dimensions for playlist cover art, here.
If you are not a designer yourself, use our free tool for creating playlist artwork.
Spotify playlist cover generator: Cover.Soundplate.com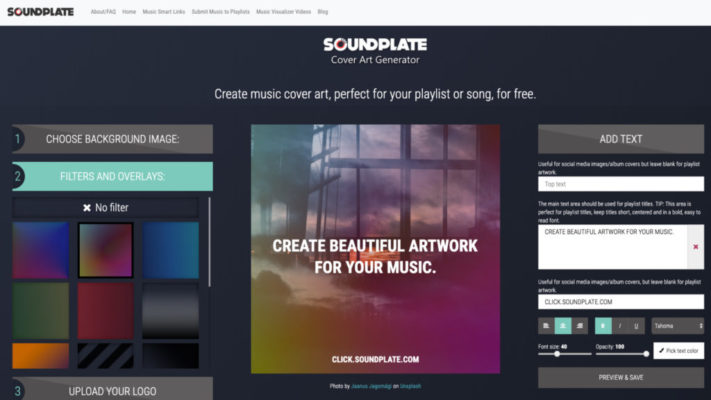 4 – Want to make a good playlist – Be Selective!!
The most important part of a playlist is of course the music you choose to feature. Don't let your standards slip, one bad track can turn off a follower for life.
Be picky, only add songs you truly love and think carefully about the 'flow' of your playlist. When you add a track, listen the songs around it and make sure they play nicely together and it feels like the right fit.
If you want to get a bit more technical, you can use our playlist analyzer tool and our track analyzer to make sure the songs are in the correct BPM and style for your list!
5 – Manage your playlist submissions & gain new playlist followers with Soundplate
Once you have got your playlist up and running, you can manage your Spotify playlist submissions with Soundplate.
When you add a playlist to Soundplate, you will start to receive new music from artists that want to be featured on your playlist. With each new submission, you will get a new playlist follower as they have to follow your list to submit.