---
Music is often judged by its artwork before it's ever heard, having good artwork can be the difference between someone checking out your music and skipping past it.
Getting your album cover dimensions right is an essential step, in this post we give you all the important numbers you need to know!
What are the dimensions of an album cover?
Music Cover Dimensions:
Album covers for Spotify, iTunes, Amazon etc must be:
At least 1000x1000px ( 3000x3000px is ideal!)
Perfectly Square – (1:1 ratio)
A high-resolution JPG file
RGB color space
Covers may be rejected by the DSPs if:
They contain nudity or anything offensive
Unlicensed images or copyrighted material
Streaming service logos
Words like 'exclusive' or 'Limited Editon'
Any website URL or social media handle
What are the dimensions of a playlist cover?
Spotify Playlist Cover Dimensions
A minimum of 400x400px
Max size 4mb
Perfectly Square (1:1) ratio
JPG file
Should not contain copyrighted material, images you do not have permission to use.
Should not contain the Spotify logo or try to copy their in-house style
It's recommended that your logo should only be in the top-left corner of the artwork and the playlist title should be in the middle of the cover in a clear, easy-to-read font.
Quickly create cover art (for free):
We have built a simple and free album cover maker where you can create beautiful music covers for playlists and songs. This to help playlist curators and artists create better pack-shots for their music and is completely free to use (no sign-up required).
Check it out now and create your playlist artwork for free!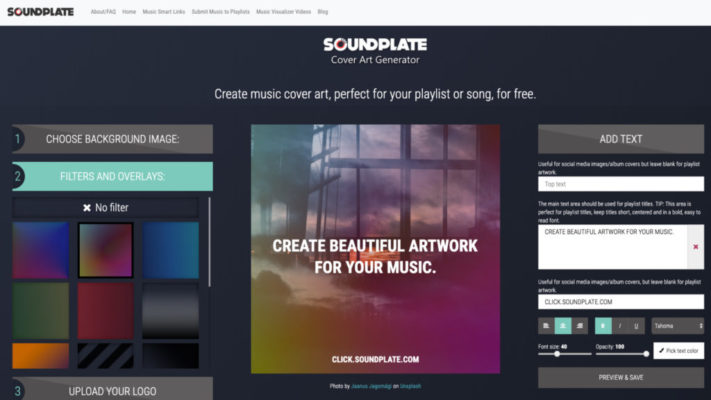 Once you have created some beautiful artwork for your playlist, learn how to change the title & artwork on your Spotify playlist.
If you want to get more Spotify playlist followers while checking out new music from artists, add your playlist to the Soundplate submission system.
---