---
You can now also find some of the most popular Soundplate music playlists on YouTube!
Soundplate playlists have tens of thousands of followers across Spotify and Deezer. Now you can also find some of your favourites on our official YouTube channel.
The music playlists on our YouTube channel will be updated weekly to reflect the changes made during the week to our Spotify playlists.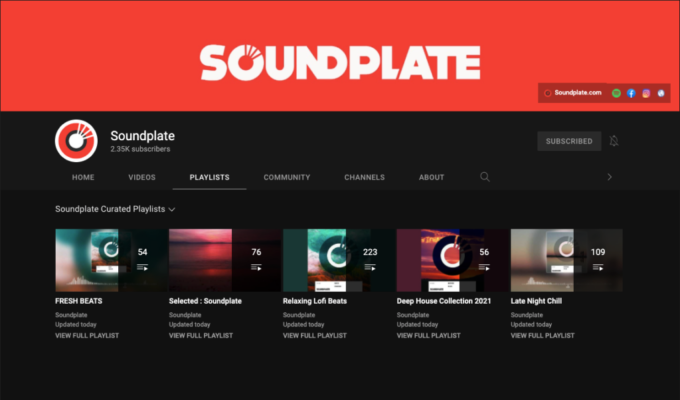 Which Soundplate playlists are now on YouTube?
Our popular lofi/beats playlists, Fresh Beats and Relaxing Lofi Beats are now also available as music playlists on YouTube.
You can also find our flagship Selected : Soundplate playlist, The Deep House Collection and Late Night Chill on Youtube.
Click here to check out Soundplate playlists on Youtube. 
What else is on the Soundplate YouTube Channel?
Our Youtube channel features music marketing tutorial videos, original media content, music playlists and of course the all the latest releases from Soundplate Records. 
Subscribe to Soundplate on YouTube here. 
How Can I Get My Music Featured on Soundplate Playlists?
You can submit music to Soundplate playlists, here. You can also use our free playlist submission system to submit music to hundreds of Spotify & Deezer curators for free!
Our YouTube playlists will be updated weekly based on the new additions to the Spotify playlists. To submit your music for these playlists please see the links below:
To submit music for Spotify playlists – simply find suitable playlists for your music and then follow the steps to follow the curator and playlist, you will then unlock the submission form and be able to get your music directly to the playlist curator.
Where can I find more Soundplate Playlists?
Soundplate playlists on Spotify
Soundplate playlists on Deezer