For this guide on music smart links we will be using Soundplate Clicks. You can sign up for a free account by clicking here.

---
This guide to smart links for music will cover:
---
What is a music smart link?
Smart links are shareable, trackable landing pages for your music. They allow your fans to choose where they listen or download your music from.
Smart links are a powerful tool for music marketing that can help to grow your fanbase, increase streams & sales, sell more gig tickets and better understand your audience.
Soundplate Clicks smart links also allow you to create pre-save campaigns for Spotify, Apple Music and Deezer. You can also create an 'artist page' to display all of your music on one perfect page.
You will sometimes hear people call smart links a songlink (or song link), fan link (or fanlink), music fire link, or all store music link.
What Does a Music Smart Link Look Like?

Music smart links are designed to be responsive so they work on all devices. Aside from the list of platforms where your music is available they can also feature buttons to add your music to playlists, event details, social media links and more.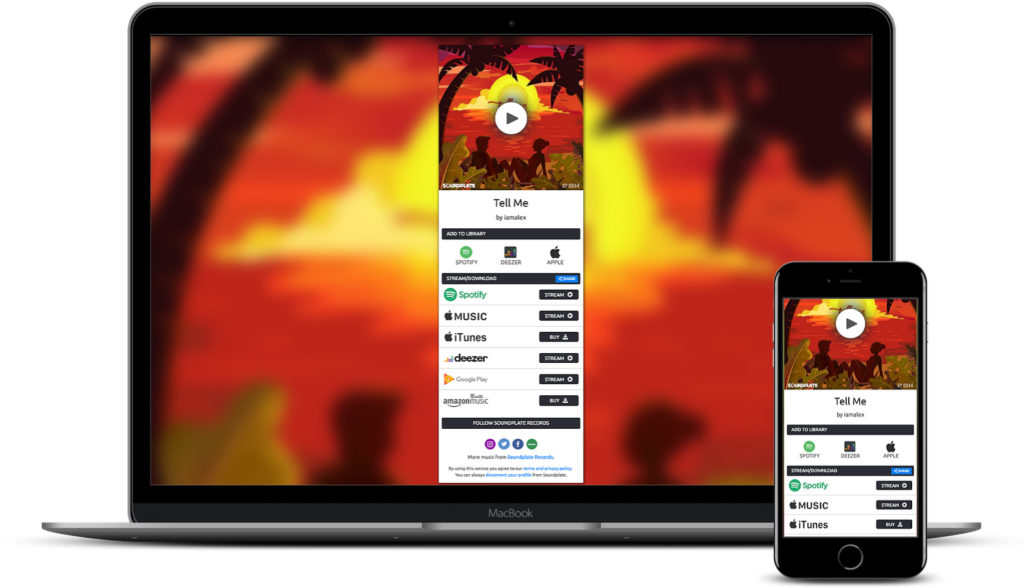 Why Use Music Smart Links?
Smart links will help you make sure that each time one of your fans discovers your music they are taken to the right music platform in the correct language / currency for them.
It's not just about making sure your users can get your music from their favorite store, it's also an opportunity to track and monitor your fans. Find out which platforms they like best, find out where in the world your fans are and keep track of your marketing. The advanced analytics that smart links offer let you see exactly how your fans are discovering your music.
If you need to work out which marketing channels work for you and which don't, this is the best way to do it.
Streaming is now more important than ever. Music smart links are the perfect way to increase your performance on streaming platforms. You can ask fans to add your music directly to their playlists (with a single click) or pre-save / pre-add music before it has been released.

There are several more advanced features to make use of if you are creating smart links for your music, we will get into some of them a little later in this article.
How to Create A Music Smart Link
Sign up for a free account on Soundplate Clicks.
Create your first smart link using the simple dashboard.
Share your smart link.
Analyze your marketing performance and adjust strategy as necessary.
Where to share music smart links
You should use your smart link url everywhere you share your music. Across your social media channels, in your Instagram bio, youtube and Soundcloud descriptions and on your press releases.
You can also embed your music on any website using the embeddable Soundplate Clicks widget or share offline using QR codes.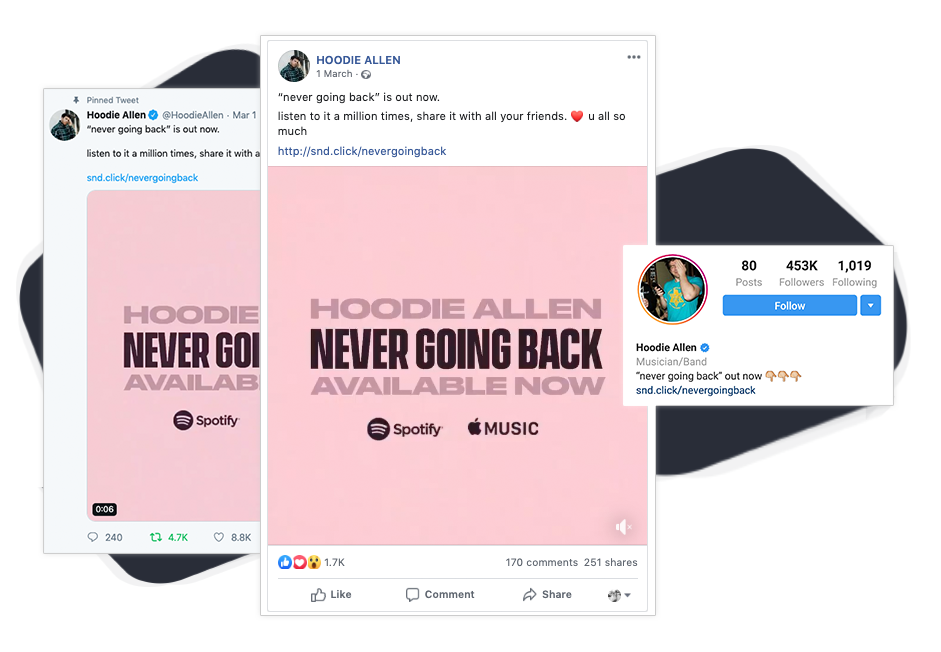 Analytics & Reporting
When it comes to marketing. Information is power. The more you know about your customers, or in this case fans, the better you can make your marketing.
Every time a fan takes an action on your landing page, Soundplate Clicks will record it and turn it into easy to understand data that you can use to improve your marketing.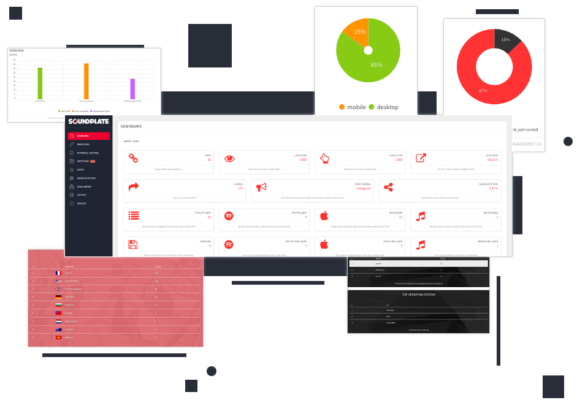 Knowing how, where and when your fans are consuming your music can completely transform your marketing. Soundplate Clicks can even send you a custom, weekly email report so you always know whats going on and where you can improve.
Artist / Label Pages
Artist / Label pages are the best way to display all of your music, social media links and tour dates in one place. Think of your artist page as a mini-website for your music. Beautiful, fast and perfect for all musicians and labels.
Artist pages take just a few minutes to set up and are automatically updated each time you create a music smart link or add a tour date to Soundplate Clicks.
They are perfectly responsive and look good on all devices. Your artist page is linked to every smart link you create using your Soundplate Clicks account.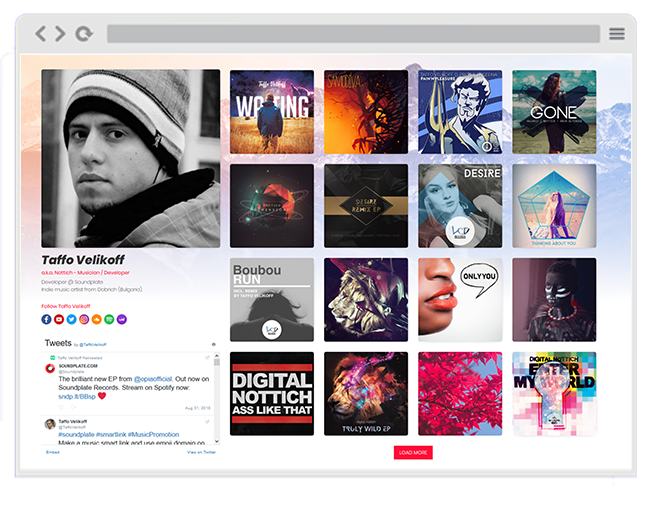 Pre-saves and pre-release smart links
There is a lot of buzz in the industry at the moment about pre-saves for promoting music that has not yet been released.
Soundplate Clicks music smart links have pre-save tools built-in. You can create pre-save campaigns for Spotify, Apple Music and Deezer using Soundplate Clicks smart links.
Setting up a pre-save campaign is super easy:
How to set up a pre-save campaign with Soundplate Clicks
Log in to your Soundplate Clicks Account.
Click to add a new music smart link.
Set a release day in the future.
Activate your pre-save using the options on the new link page.
Share your link across your social media, in your mailing list and ask your fans to pre-save your music.
On the release day make sure you come back and enter your track urls so that anyone who has pre-saved the music gets it their libary on Spotify, Deezer or Apple Music.
You can also add pre-order links for any other music platform if you have been given them by your distributor.
Once the release is live and you have entered the links to your music, new fans who come to your link will see buttons to add the song/album to their library or playlists on each platform.
– A quick word about data: There has recently been some controversy about labels/tools designed for pre-saves requesting additional and unnecessary data from users when connecting to the Spotify API. We (Soundplate Clicks) take data privacy very seriously and do not ask your fans for any extra permissions above and beyond what we need to execute the pre-save campaign.
Customizing the look of a music smart link
Smart links can be customized to meet your branding / user experience needs.
There are many options you can change on a smart link including:
The preview image/cover shot
The audio preview source (Spotify, Soundcloud, Youtube, Apple Music)
The background image/video
 The order of the platforms displayed and which platforms you choose to show.
The Footer of the link (social media icons)
The events which you choose to display
You can create the perfect smart link for any campaign.
Advanced Features
There are several advanced features that you can take advantage of when creating Soundplate Clicks smart links. Some of them include:
Geo-Targeted event promotion: allows you to import your upcoming gigs and display them to the fans who are most likely to buy a ticket for your show. Events are also shown on your label/artist page.
Embeddable Widgets. Embed your music on any website in the best possible way. By embedding your smart link you can let fans listen to previews, stream your music from their favorite platform or add it to one of their playlists!
QR Codes can help take your online marketing, offline. You can generate a scannable QR code for any Soundplate Clicks smart link in a single click. Put this QR code on posters, flyers, stickers, merch tags – anywhere you like! As soon a fan scans your code they will be taken to your smart link on their mobile device.
Facebook Re-targeting allows you to make use of Facebook Pixels to create custom audiences perfect for promoting your new music. Re-targeting can be a very powerful way to reach people who you know are already interested in your music.
You can also use your re-targeting data to create 'look-a-like' audiences to find more new people who may be interested in your music.
Smart Links for Record Labels
It's not just individual artists that make use of smart links. Soundplate Clicks has special accounts designed for labels and companies working with multiple artists.
Label accounts have all the great features that pro artist accounts along with some special extras just for labels. Labels can invite artists to view some stats and data for the links they create on their artists behalf.
We create smart links for all of our releases at Soundplate Records. Every time we mention a release on our website or social media we link to it using a Soundplate Clicks smart link.

This gives us some incredibly valuable data on how each release is performing allowing us to make the right marketing decisions. Our artists always love sharing the smart links as they look awesome and give their fans the best possible experience. We also make use of advanced features such as Facebook re-targeting and affiliate programs.
How Much Do Smart Links Cost?
You can create your first
music smart links for free
with a free Soundplate Clicks account.
Pro artist accounts give you access to all the advanced features, let you create unlimited smart links and get even more in-depth data about your fans. Pro artist accounts cost $20/m or $180/y (saving 25%).
For a full breakdown of pricing and features please click here.
Other Smart Link Providers
This article was all based around the features on our platform, Soundplate Clicks. I firmly believe that Soundplate Clicks is both the most complete and most cost-effective solution for creating music smart links but there are of course several other options you may wish to consider.
Alternatives to Soundplate Clicks include Linkfire, SmartURL, LinkRedirector and Hive. You can find even more options in our free Music industry directory. 
More Questions?
If you have any further questions about Soundplate Clicks or smart links in general please feel free to contact us at any time.
---