---
We went to meet the industry's top dogs for some inspirational education at Take Note London..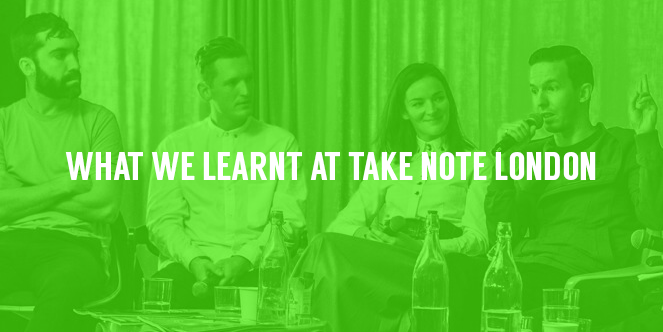 A few weeks ago on a brisk Saturday morning, we found ourselves not in bed with a hangover, but rather at Take Note, at Second Home in Shoreditch. Offering insight into the music industry and inspiration for those just starting out, plus some of Point Blank's now infamous workshops, this was the perfect opportunity for anyone thinking about breaking into the industry to come and learn the tips and tricks of the trade. Here are the top pieces of advice we heard at Take Note…
"
Just say no.
"
It's really easy to get swept up in being a 'yes' type of person, but it's important to learn when to say no. Sophie Hall, founder of Lockett Artists, who look after Annie Mac, Fake Blood, Melé and Eli & Fur, to name a few, said the former's success was down to knowing when to say no; having that invaluable knowledge of what you should and shouldn't be taking will help you refine your craft and make sure you don't become swamped. Too much of anything can be bad for you and your career, especially when you're starting out. Never be afraid to say no to working for free too, if you feel you've accomplished enough to be financially recognised for your efforts!
Saying 'no' isn't just limited to work, however, it applies to the party too. The music industry's 'glamorous' lifestyle has many perks but it's easy to get caught up in the extravagance and forget we are all here to work hard, not just play hard. Charlotte Lucy Cijffers, Digital & News Editor at DJ Mag, said it was a long road to her learning that you can't party all the time, and that the reality of her job means she has to abstain from alcohol, but one that will ultimately make her more successful. Rag Satguru, co-founder at Grade Management, who look after Skream, Jackmaster, Seth Troxler and Eats Everything, said he had recently found himself stepping out of the party, looking and feeling much better for it. It's not sustainable to hammer it all the time, some weekends call for booze-free early nights – you'll thank yourself for it one day!
---
---
"
Email everyone, more than once if you have to
"
.
So you sent an email out to someone asking for something – a job, advice, whatever – and you've been met with radio silence. Don't stew on it, they're probably just busy! Be proactive, give them a follow up email a week or two after the original email, just a gentle nudge to remind them of your request. Of course, you don't want to badger anyone, but it's important to realise that professionals are busy people but they aren't oblivious to your struggles. Everyone started somewhere. Be polite, concise and courteous, don't sound annoyed that you've not had a reply. Ed Karney, co-founder of Grade Management, even suggested including a picture of yourself with emails saying, "I remember faces better than I remember names".
---
"
Don
'
t be a dick
"
.
As you work your way up the music industry, you'll come to realise that a lot of people get swept up in the hype and become dickheads, to put it politely. These people will come to you at various points in your journey, in many different shapes, but it's important not to let them get you down or, worse still, end up just like them. As Charlotte Cijffers said, "be nice to people on the way up, as you might meet them on the way down", and no one is exempt from the possibility to climbing down the ladder. In the intro video, Ben Pearce echoed these exact same words, and being humble and polite was a big theme throughout the day. Everyone is dealing with their own shit, some of it you may never know about, so bear that in mind before you decide to throw your toys out of the pram. Channel your inner Jenny From The Block at all times, and if you feel yourself filling up with negativity, then the next piece of advice is especially for you…
---
---
"
Meditate
"
Take Note co-host and all-round brilliant and inspirational woman, Carly Wilford, invited us all to take part in a group meditation session during the 'Lifestyle Balance in Music' talk. Following this many of the panelists said that they owe their centred nature to meditating. Geddes, Clive Henry and Laura Jones, three gargantuan names in the scene, all accredited their balance to taking the time to meditate at every opportunity, and it's not difficult to see why it's such an important force in their lives. It's good to take the time to reflect on yourself, to focus your energy and learn how to heal, especially in an industry that barely pauses to take a breath.
---
Were you at Take Note? What were your favourite pieces of advice?
Tweet us @Soundplate and let us know!
Find out more about Take Note at TakeNote.London
---
Words by: Yasmine Ben-Afia
---