Music promotion can be difficult and frustrating. It's a constantly changing landscape and staying ahead of the curve can be difficult.
At Soundplate we are committed to helping independent artists and labels succeed.
We have developed some tools and resources to help you promote music, submit music for Spotify playlists and get the most from your music promotion.
Free Music Promotion Tools & Resources
Some of our top resources and tools for free music promotion are listed below.
Please select from the list to find out more and promote your music.
Free Music Marketing Tools and resources for music promotion
Take Your Music Marketing To The Next Level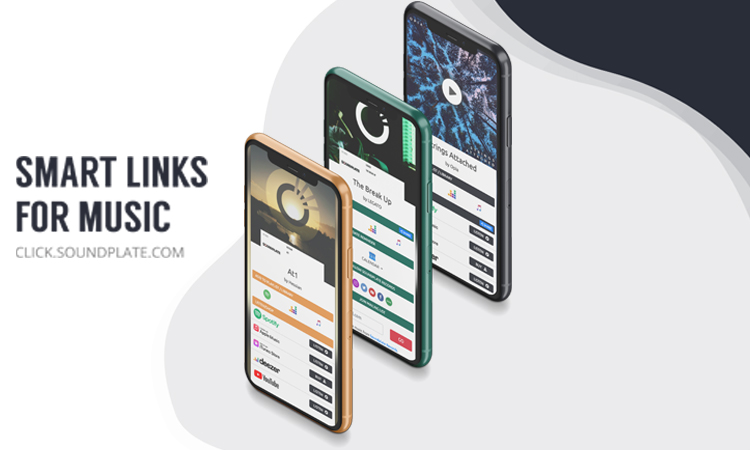 The ultimate smart links for music marketing.
What exactly are smart links?
Smart links (also known as fan links) are shareable, trackable landing pages for your music that let fans choose where they stream or download your tracks from. They're the most interactive way to market music there is, displaying everything artists need to promote on one, stylish page.  
Get all you need to reach more fans— faster— with a simple, short link you can share everywhere.
Soundplate Clicks links encourage fans to add your music to their Spotify, Deezer, or Apple Music playlists, and they make downloading tracks a breeze.  They'll help you grow your fanbase, boost streams and sales, and sell more gig tickets, while our analytics dashboard will let you better understand your audience. 
Gain total control over your marketing approach, and discover which platforms your listeners prefer, where your fans live, and how they're finding your music.
Smart Links are:
Responsive

– optimised to work on ALL devices.

Intuitive

– takes fans straight to their preferred platform for purchase.

Interactive

– keep fans updated with Events and Social Media Links

Supportive

– let listeners add your tracks to their playlists

Informative

– advanced analytics let you track your fans

Promotional

–create pre-save campaigns for Spotify, Apple and Deezer 

Shareable

– embed, share on social, Soundcloud, YouTube, & offline 

Ideal for Labels

– add multiple artists, promote all your catalogues & more!
Use Soundplate Clicks to boost your performance on streaming sites and get many times more listens, adds, and purchases.  Create stylish Artist or Label pages, then use like a mini promo website to display all your music, social links, and tour dates in one eye-catching place. 
Our music smart links help you tweak your promotional strategy, as every time a fan acts on your page, we'll convert this into data you can use to refine your approach.
MAX out the volume with Clicks
Why not try out the best way to promote your sound online, by signing up for your free account right now?
 For a limited time only, you can get your first two links free so you can evaluate our service for yourself.   Plus, if you're an artist, we'll give you 10% off your first payment, when you enter code first10 at checkout.
Get started now, sign up free!
---
Intelligent music smart links boasting innovative new features designed to help grow your fanbase, increase streams & sales, sell more gig tickets, and better understand your audience.
About The Soundplate Spotify Playlist Submission System
We are on a mission to help artists reach independent and influential Spotify curators. Our system is totally free for artists and has already helped thousands of artists land spots in great Spotify playlists.
We originally built the system to handle the submissions we were receiving for our own playlists but soon realized the potential and demand for opening the system out to other Spotify curators, there are now hundreds of playlists using our system to handle their music submissions.
Click here to search for Spotify playlists & submit your music to Sptify playlists now. If you have a playlist you would like to be added to the system please click here.
Can't find what you are looking for?
---
We are proud to support all talented artists, not just those with big budgets and record label backing.

The landscape of music promotion is changing fast and as Spotify playlist submissions become more and more important, we are pleased to be supporting all artists with our free platform.
---
FREE MUSIC BLOG SUBMISSION
FREE MUSIC PROMOTION TOOLS
MUSIC PROMOTION