Soundplate Clicks is our state of the art music smart link and marketing tool for musicians. The platform allows artists to easily create smart links for their music, get in-depth analytics about their fans, sell more tickets and improve their marketing with a suite of additional features and tools.
We are committed to constantly improving the product and we are always working on new tools to help artists succeed. Our latest feature, 'Artist Pages' is available now for all Soundplate Clicks Pro Accounts ($20/month) to use for no additional cost.
Introducing Artist Pages: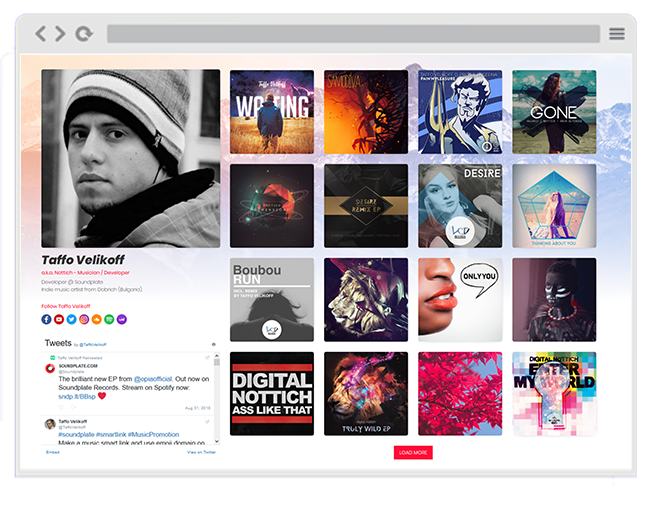 Artist pages bring together all of your music (smart links), social media links, event listings and more. All of this is displayed on one, beautiful, responsive web page, your 'Artist Page'.
Artist pages can replace artist websites or work alongside them to display music in a smarter and cleaner format. They are customisable, lightening fast and could not be easier to create.
Artist pages have been designed to show all the information your fans need but nothing else, cut out the noise and give your fans exactly what they are looking for.
Each release displayed on your artist page is a smart link meaning you get full, in-depth analytics and stats on how and where your music is being consumed.
How Can I Create an Artist Page for my Music?
Artist Pages can be created in less than five minutes by any pro user of Soundplate Clicks. If you do not have an account, sign up here. Once your account is open you can upgrade to pro for just $20/month and create your Artist Page for no additional cost.
Creating an artist page could not be easier, it takes less than five minutes to set up once you have added your profile info, music and tour dates to Soundplate Clicks. Simply open the 'artist page' menu item from the dashboard and select your options, select a URL and click save..
Thats it – a perfect artist website in just five minutes.
No additional costs, hosting charges, design fees – just one perfect page to show off your music that is always online.
What Can I Use My Artist Page For?
For most artists, an artist page can completely replace a traditional artist website.
Even if you already have a website you are happy with you can use artist pages as a one-sheet to send to agents/promoters/press or as an addition to your current website.
Artist Pages are responsive, perfect for sharing your music from your Instagram bio or other social networks.
Create your own
Sign up at click.soundplate.com.
---