As artists/record labels we have a lot of marketing tasks to think about. Keeping up with our social media, playlist submissions, smart links, newsletter etc etc.
One important asset that's often overlooked is our email signatures. If you are anything like me, you probably send hundreds of emails a week. Each person you communicate with is a potential fan so make sure you have your music, right there in every mail you send.
If you use Soundplate Clicks for your music smart links and pre-saves you can generate a professional email signature in just a few clicks that will automatically stay updated with your latest music. It's completely free and super simple to set up.
Here's how to create your music email signature:
Sign up for a free Soundplate Clicks account.


Create smart links for your music (watch this video to learn how)


Make sure your profile section is complete (this is where your social media links and photo will come from for your signature).


Go to the 'email signature' section of the Soundplate Clicks dashboard and fill in your details.

Music Email Signature Generator on Soundplate Clicks

Click 'Generate Code' and your code signature will be copied, ready to be pasted into the your email clients' signature settings.
That's it! A perfect email signature for all your emails that is automatically updated to link to your latest music smart link. What's more, if you are a pro user of Soundplate Clicks with an artist page, a link to your page with your full catalog of music will also be added. Here's an example of how it will look: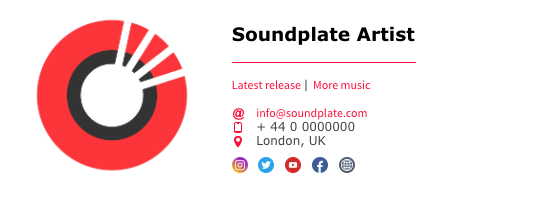 Get started now with Soundplate Clicks.