Running a social media campaign for an artist is relatively easy in the build up and soon after new music is released but what do you post when there is no new music to promote?
Artist pages on social media can seem pretty quiet between releases. This is bad for the artist brand, fans start to fall away and engagement on your socials (which keeps the algorithms happy) starts to drop away.
In this post we suggest some different types of content you can use to keep your fans engaged between music campaigns.
Back-Catalogue 
It's never too late to promote a song! There is a lot more to music promotion than the flurry of activity on release day. Create an 'artist page' for your music like this using Soundplate Clicks and invite your fans to delve deep into our past releases. Reminding fans of your old songs helps keep them familiar with your music and can also help breathe new life into songs released in the past. For example, a big jump in activity around a song on Spotify can help to trigger the algorithm to surface the song to more like-minded fans.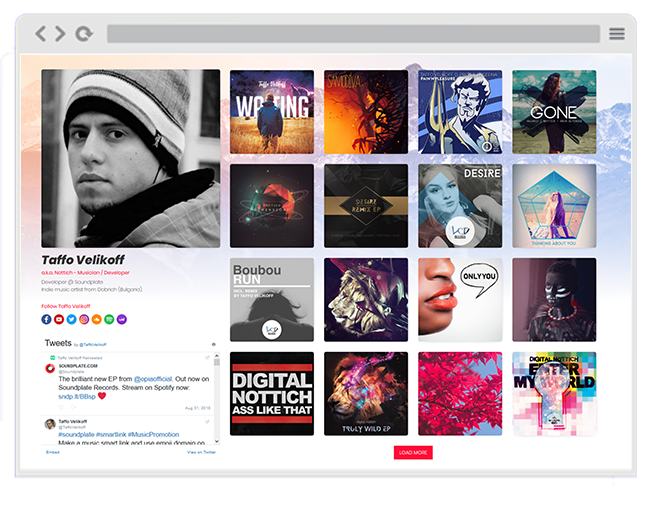 Reminding fans of old songs and music videos can also have a fun, nostalgic effect.
Artist Branded Playlists
Unless you have been living under a rock for the past few years, you will know there is a lot of buzz around playlists right now! Curating a playlist on Spotify, Deezer or Apple Music can be a great way to share your favourite music with your fans. If you think you have a great ear for new music and enjoy sharing music with people this can be a fantastic way to engage your fans. It's also something you can update and talk about on social media as often as you like and does not cost you a thing. You can take this a step further and allow fans to submit music to the playlist and send you music suggestions for consideration!
Throwbacks
Similar to the point above about pushing your back-cat, but more than that. Throwback content does not have to be music, it can be an old photo from a gig or even your childhood or a video from way back when! This kind of content is a powerful way to tell your artist story and give a little background to your music.
Quotes
Quotes are super shareable and often go viral. If you have spent any time on Instagram the chances are you will have come across images with motivational quotes. Now, if life-affirming quotes are not your thing perhaps you could do something similar with your song lyrics or press cuttings..
Behind the scenes
Video footage or photos that give your fan a peek behind the curtain always go down well. Can you show your fans a glimpse of your recording process, some footage from live rehearsals or even a look at your song writing pad?!
This kind of content lets fans feel like they are part of the process and that they have 'exclusive' access to you. It's a great way to reward your loyal fanbase.
Jammed an acoustic version of my new single, Superman. Filmed it in the wrong setting on my go pro so its a square, soz! Original version here: https://armas1638.lnk.to/Superman

Posted by Youngr on Tuesday, October 22, 2019
Honest thoughts and feelings
This one is perhaps the hardest to do, but often the most valuable. If you are having a writers block, you are exhausted or frustrated by the industry or you are on a super high because you achieved a goal, try and share how you are feeling. This can be in the form of long-form written posts or even in video or audio (a podcast?). Whatever you are most comfortable doing!
Be careful not to come across ungrateful or that you are always complaining?—?this can turn fans off eventually but also, be yourself! Fans will respect your honesty.
These are just a handful of ideas but we hope it helps keep your socials active and your fans engaged even when you don't have a new song to promote.
If you are looking for social media jobs, check out samssocialmediaclub.com
---