---
Five of the best options for DJ Controllers in 2017.




There are loads of all-in-one DJ controllers on the market at the moment. The last few years have seen a huge surge in the demand and capabilities of controllers with more and more DJ's deciding to make the switch. The leading brands are constantly pushing the technology forward and releasing innovative and new features.

Whether you are a brand new DJ or professional looking for a change of set-up, we hope this article will help lay out some of the best options on the market right now.

Once you have decided on the best option for your needs, you are also going to want to buy some DJ headphones to go with the controller, here are our top picks.




Pioneer equipment is the industry standard in clubs across the world. The DDJ-RX range is the brand's professional range of controllers. The controllers are 4 channel and work seamlessly with Pioneers popular Rekordbox Software. (If you prefer to use Serato software we recommend the Pioneer SX range.)

The Pioneer DDJ controllers are built from quality, durable components that won't let you down no matter if you are using the controller at home or in a club setting.

This controller is more expensive than some of the others on this list but if you are after a top quality controller that won't let you down we can highly recommend it.
Price at time of writing: £861.00

More Info / Buy
---


The Reloop Mixon 4 is one of the most versitile controllers we have come across. Plug this into your mac, pc or even your iPad and get in the mix right away. You can also use this controller with your choice of software. This is a 4 channel mixer allowing you to get seriously creative.

Price at time of writing: £599.00

More Info / Buy
---


This tiny controller is packed full of features and is the best quality controller of it's size that we have ever come across. The controller works perfectly with your iPad or can be plugged into your PC or Mac.

Take your first steps to becoming a superstar DJ with this cheaper and more compact alterative to the more expensive Pioneer DJ products.

Price at time of writing: £276.34

More Info / Buy
---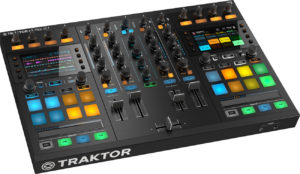 Of all the controllers featured in this post, the S-range of Traktor controllers probally have the most amount of technology squuezed into them. Touch sensitive controls and strips make this one of the most fun controllers to use to. This is also 'Stems ready' for those of you who want to get deeper into the mix!

If the price tag is too high for you, check out the S4 (MK2), or if you want even more great features and don't mind spending a little more check out the big boy, the Traktor S8.

Price at time of writing: £629

More Info / Buy
---


This is our top pick for DJ's on a budget. At under £300 the MixTrack platinum is a steal. This 4-track controller features high-end features like touch sensitive pads, LED displays and metal platters at a fraction of the price of some of the other controllers featured.

The build quality will not be quite as high as the Pioneer options but this is a great bit of kit. If you are looking to save even more money, check out the options at checkout for the MixTrack Pro without the LED displays.

Price at time of writing: £219.00

More Info / Buy
---