In this article we will explain how to set up a Spotify Pre-Save / Apple Music Pre-Add campaign in just 5 easy steps.
While running a pre-save campaign for your music takes a little planning, it can make a huge difference to your music. A successful pre-save campaign will give you more day-one streams, help the algorithms find your music, which can improve your chances of being added to official playlists and more.
Read on for more details on how to create a pre-save campaign for your music…
Step 1: Upload your music to Spotify, Apple Music and Deezer.
To get your music on Spotify, start by choosing a music distributor. There are many good distributors who will be happy to help you get your music to the stores, check out this list for some options. 
If you want to create a pre-save campaign you will need to set your release date at least a few weeks into the future. A longer lead time is a good idea as it gives you more time to get your promotion right .
It's always best practise to choose a release date at least 4 weeks ahead.
Step 2: Sign Up For A Free Soundplate Clicks Account.
Soundplate Clicks is our innovative music smart link system. Sign up for a free account and you will be able to set up your pre-save campaigns, smart links and more. You will also be able to better track and understand your fans.
Once you have set up your account make sure you have entered your Spotify and Deezer artist ID details in the 'My Profile Section' of the user dashboard, this will mean when a user pre-saves they will also be prompted to follow your artist account.
Step 3: Create Your Pre-Save Campaign
Log in to your Soundplate Clicks Account
Click to add a new music smart link.
Set a release day in the future.
Activate your pre-save using the options on the new link page.
Share your link across your social media, in your mailing list and ask your fans to pre-save your music!
Step 4: Add links to your music on/before release date
This is an important step, but don't worry if you forget, Soundplate Clicks will automatically send you an email to remind you to add these links.
Once your links have been added your music will be automatically added to the libraries of all fans that have pre-ordered and your promotion will be off to a great start!
Step 5: Keep up the momentum as your pre-save link automatically turns into a music smart link.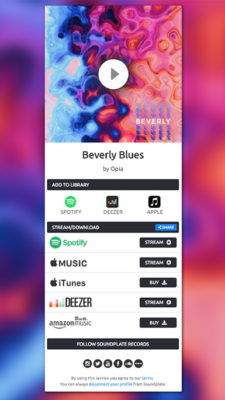 Once your track is out, your pre-save link will turn into a regular smart link, add links to all the other stores and platforms your fans may use and get insights into the performance of your music as your promote your music.
CREATE PRE-SAVE/SMART LINK NOW
---