---

When you think of a recording studio, mic filters, screens, and vocal booths are the first things that come to mind, but what about when you are making music at home..
Recording vocals at home can be tough, the acoustics and background noise can be a real pain, but with the right mic screen or filter your voice can sound amazing coming through your studio monitors!
In this post, we look at some of the best options for your home studio.
What do microphone filters do?
Pop microphone filters isolate the vocals from the surrounding environment. They improve the recordings of vocals by filtering out unwanted noise and reflection.
The Best Pop Mic FIlters & Microphone Screens for recording vocals at home.
Nady MPF-6 6-Inch Clamp On Microphone Pop Filter

The Nady MPF-6 with Flexible Gooseneck and Metal Stabilizing Arm is a great option for

recording podcasts or vocals for music. It looks great and is super easy to fit and adjust.
The MPF-6 is one of the most versatile pop filters on the market today.
MORE INFO / BUY
---
The PEMOTech Pop Filter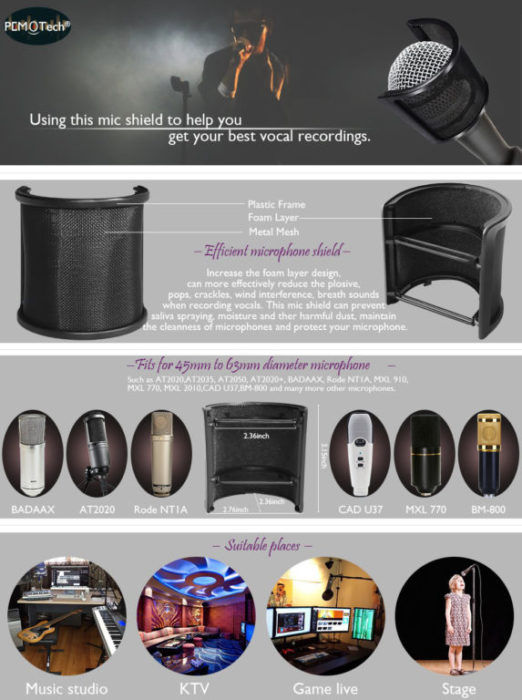 This small but mighty mic screen is super easy to setup and features a special three-layer design to get rid of all unwanted noise when recording your voice.
The PemoTech filter fits a wide range of 45 mm to 63 mm diameter microphones, they also have an additional option which includes a Mic Shock Mount.
MORE INFO / BUY
---
Youool Microphone Isolation Shield Pop Filter

This impressive-looking bit of kit is made from a special foam insulation material, which can reduce the sound reflection during recording and has good sound insulation performance. It's also foldable making it easy to pack with your headphone case, USBs, and other equipment and perfect for recording vocals on the go!
MORE INFO / BUY
---
EVIEUN Pop FIlter Screen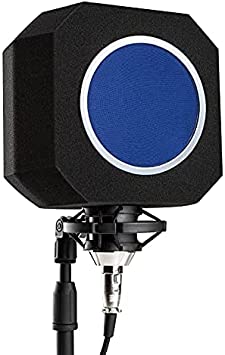 The EVIEUN Pop FIlter is slightly more expensive than some of the other options here but this lightweight, portable option looks and more importantly sounds amazing.
It's constructed from high-density, studio-quality. noise reduction sponge. The shield efficiently filters environmental noise allowing you to capture pure human voices.
This mic shield will allow you to record vocals at home that sound like they were professionally recorded in a studio. We highly recommend it!
MORE INFO / BUY
---
Want more?  How about the best home studio monitors or headphones to hear your perfect vocals..
---