Soundplate Clicks is our platform for creating music smart links, pre-save campaigns, bio links, music email signatures and more. It's free for artists and labels to get started so if you are not already a member, go register at Click.Soundplate.com.
We are pleased to reveal some new features designed to help our record label clients work more efficiently.
New features for Record Labels using Soundplate Clicks
All of the additional features listed below are available now to all record labels that subscribe to Soundplate Clicks, there is no additional cost for using the new tools.
Demo Drop System
We are super excited about this one!
Record labels can now manage their demo submissions with Soundplate Clicks. 
The new feature allows record labels to create a branded demo submission page (like this) where artists can submit their music for consideration. All the submitted demos can be reviewed from within the Soundplate Clicks dashboard.
This new feature allows labels to better organise and manage their incoming demos at no additional cost.
Free Job Listings for Record Labels
Another additional benefit we have now rolled out to all label clients on Soundplate Clicks is the ability to list music industry jobs on Jobs.soundplate.com for free.
Jobs.Soundplate.com is a music industry job board used by thousands of artists, curators and creatives every day.
We have a strong belief that artists, curators and creatives need to have a larger influence and more power in the industry. Thousands of artists visit Soundplate everyday so this new feature allows labels to recruit from this extraordinary pool of talent.
More control on links
Registered labels on Soundplate Clicks now have more control than ever of their smart links. They can control the social media profiles which show on smart links on a link-by-link basis allowing them to include social profiles for the artist or a sub-label
Labels can also give their artist access to analytics and stats for their links, and change the Spotify profile which shows after a user pre-saves their music.
Additional platforms
We are integrating with more DSPs (music platforms) to make our auto-scan feature on smart links better than ever. We are pleased to announce you can now automatically find music on Audiomack and Traxsource when creating music smart links on Soundplate Clicks.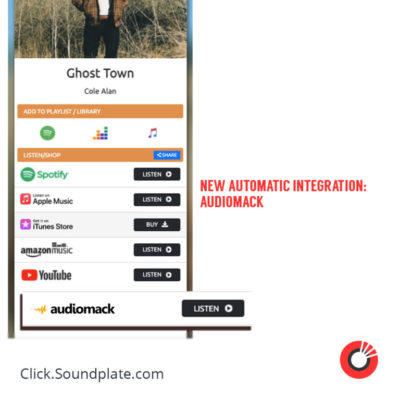 Bio-Links
Labels and artists can now also use Soundplate Clicks to create social media bio links. All label subscribers can now create unlimited bio links for no additional cost.
Bio links on Clicks are designed specifically for artists & Labels with special features like fan email collection, widgets to ask fans to follow you on Spotify or YouTube, and special links which will automatically redirect your fans to your latest release.
NFT Ready!
Just in case you missed it, Soundplate Clicks smart links are also fully ready for NFT drops with all the major NFT marketplaces supported and the ability to upload animated album artwork.
Click here to learn more about using Soundplate Clicks to promote NFT drops.
Get Started with Soundplate Clicks for free!
We have several more features on the way for both our label & artist clients. If you haven't checked out Soundplate Clicks yet, get started now with a totally unlimited 7 day free trial. Sign up at click.soundplate.com.